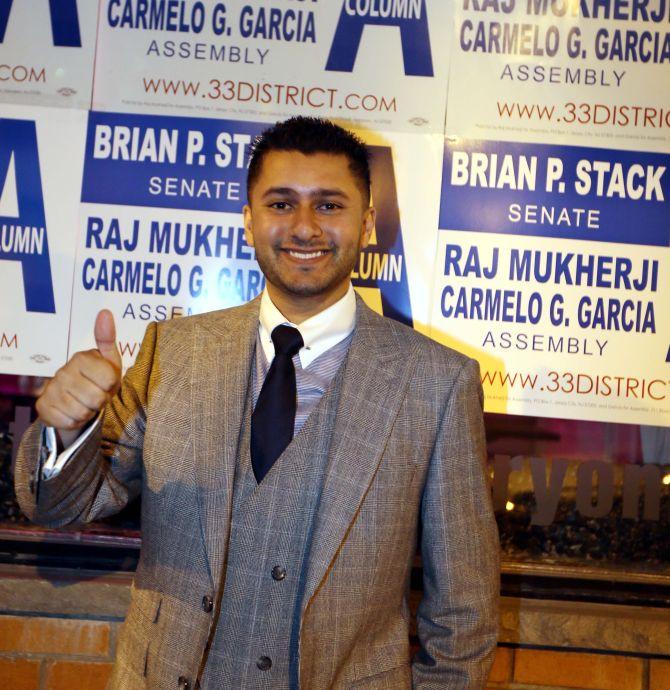 Raj Mukherji, a rising young Indian-American political figure who won an election to the New Jersey state legislature, wants to see more people from the community getting involved in the United States government.
"I would love to see the immigrant community, especially including the South Asian diaspora and the Indian diaspora get more involved in public life," 29-year-old Mukherji said in an interview.
He said Indian-American and the South Asian diaspora have made tremendous contributions to improving New Jersey and the US in every aspect, including politics and government.
"But I think given our numbers, we should be more prolific. There should be more Indian faces. I should not be the second Indo-American legislator in state history. There should be half a dozen and I look forward to the day when that is true," Mukherji said.
Earlier this month, Mukherji won the election to the 33rd Legislative District in the New Jersey state legislature, becoming one of the youngest people to do so.
A first-time Democratic nominee, Mukherji is a former Jersey City deputy mayor and would represent the 33rd legislative district, which covers Hoboken, Union City, Weehawken and parts of Jersey City.
A son of Indian-American immigrants, Mukherji has had a stellar rise in the political arena in his young career but says there is still a lot that he needs to accomplish.
Mukherji supported himself through high school, college and grad school as an emancipated minor when his parents were forced to return to India due to economic constraints.
After suffering from medical ailments, Mukherji's father late Asim Mukherji, an accountant, could no longer work as a result of his health and could not afford health coverage without employment.
The experience shaped Mukherji's perspective and interest in healthcare and inspired much of his subsequent advocacy in that field. Mukherji's father passed away in March and he voiced his gratitude to his parents for their support and guidance.
Mukherji said he feels "honoured" to be elected to the state legislature and stresses that he would focus on areas of economic development, healthcare, access to quality education and public safety in his tenure in the state assembly.
"I am just trying to follow in the footsteps of some people I hold in very high regard," like Indian-American Upendra Chivukula who has served in the New Jersey general assembly since 2002, where he represents the 17th legislative district.
He added that other Indian-American legislators on the state and national stage are his inspirations and he is "looking forward to representing an incredibly diverse district which contributes greatly to the New Jersey and national economy".
"It is important that we make them contributors to the economy rather than people without the benefit of higher education," Mukherji said.
On whether he hopes to carve a name for himself on the national political stage in the US, he said he has "very limited aspirations" and is currently focussed only on helping his legislative district.
From March 2012 through June 2013, Mukherji served as one of the two deputy mayors of Jersey City, New Jersey's second largest city. He also founded an internet consulting and software development company while in middle school.
Following the September 11 attacks in New York, Mukherji joined the US Marines at age 17, where he served in military intelligence for the Marine Corps Reserve. At 19, he co-founded a public affairs firm that he grew into the state's third-largest lobbying firm.
At age 24, Mukherji was appointed the youngest commissioner and chairman in the history of the Jersey City housing authority.