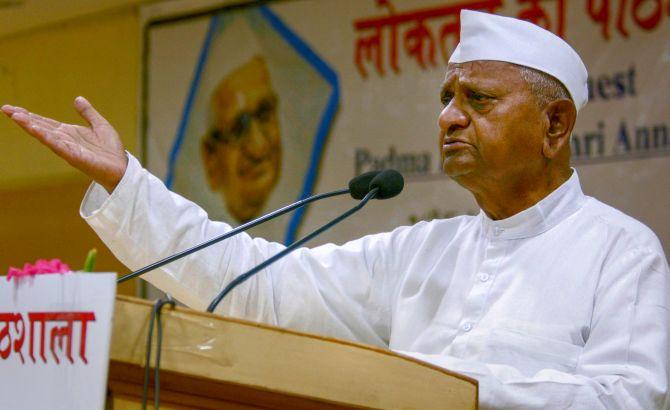 Social activist Anna Hazare, who spearheaded nation-wide anti-graft protests in 2011, is again set to launch a 'satyagraha' in Delhi next month, but those wanting to join his campaign have to fulfil one mandatory condition -- a vow they will not join electoral politics.
The 80-year-old anti-corruption crusader, whose previous agitation propelled many leaders, including Delhi Chief Minister Arvind Kejriwal, to the national limelight has decided that those who wish to associate with him now will have to swear in an affidavit that they will not join politics in future.
"During past agitations, among those who associated with me, one is a chief minister, another is a governor and yet another is a minister. Now if anyone associated with me joins politics in future, I will take him to the court. We are taking affidavits from those joining my agitation that they will not enter electoral politics," Hazare said.
Apart from Kejriwal, Puducherry Lieutenant Governor Kiran Bedi and Union Minister V K Singh were among those closely associated with Hazare during his previous agitation in the national capital.
"Gandhiji used to say that every agitation should have a character. Nowadays, nothing is based on character. The only objective is to catapult one to power. Anti-social and unscrupulous elements have entered politics and are being given tickets. We have to see quality of agitations and not go by the numbers," said Hazare, explaining the reason for the condition that he has laid for those desirous of joining him.
Hazare, who was on a two-day visit to Uttar Pradesh to garner support for his proposed satyagraha from March 23 in Delhi to highlight farmers' issues, Jan Lokpal issue and the need for electoral reforms, expressed disagreement with the demand to hold elections using paper ballots instead of electronic voting machines.
"I don't agree with the demand of holding elections with paper ballots instead of EVMs. When the world is moving ahead, why should we move backward. However, totaliser machines should be used to ensure fairness of EVMs," he said.
Totaliser machines are used to mix votes before counting to prevent disclosure of voting patterns, thereby allaying fears of any post-poll victimisation of any section. BSP supremo Mayawati and SP chief Akhilesh Yadav have been demanding the use of paper ballots in future elections, alleging that EVMs were tampered with to benefit the BJP.
Asked why he needed to undertake a tour to garner support this time unlike in 2011 when he took the country by storm, Hazare said a lot of time has passed and people were thinking the "agitation has petered out."
I am going to the masses to change the mind set of the people, he said.
Also, the BJP had made a lot of promises during elections, but people are still waiting for the 'achche din' even though its government's term is approaching its end, he said.
There is no difference between the Bharatiya Janata Party and the Congress as far as matter of corruption are concerned, he alleged.
"The Modi government has weakened Lokpal. The government talks about corruption-free system but, it seems it has no intention of bringing a strong Lokpal. Under section 44 of the Lokpal Act, there is a provision for government officers to give details of their properties every year but this was amended and it's not compulsory now."
He added that a long time had passed since demonetisation but the government has not been able to tell how much black money had returned.
"Both the Congress and the BJP are after grabbing power and money. They are only concerned about strengthening their parties," Hazare said.
He also attacked the previous United Progressive Alliance government for not bringing Lokpal Bill adding that "despite a promise, former PM Manmohan Singh did not enact the law".
Photograph: PTI Photo