The sons of murdered Saudi journalist Jamal Khashoggi have appealed to Riyadh to return the body of their father so that the grieving family can bury him in a cemetery in the holy city of Medina with the rest of his clan.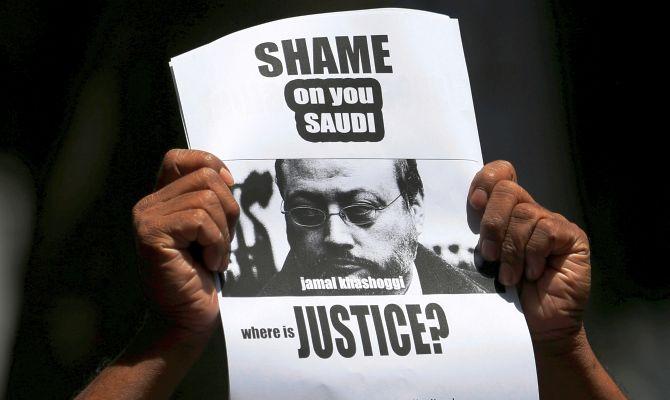 Khashoggi was brutally killed inside Saudi Arabia's consulate in Istanbul by a hit squad sent from Riyadh on October 2.
Authorities in Turkey are still searching for Khashoggi's remains. Last week, the Turkish chief prosecutor's office said the 60-year-old's body was dismembered after he was strangled, while the Washington Post reported investigators were looking into the theory that the body was dissolved in acid.
Salah and Abdullah Khashoggi, who called their father "courageous, generous and very brave," said they have endured weeks of anguish and uncertainty following his disappearance and death.
"I really hope that whatever happened wasn't painful for him, or it was quick. Or he had a peaceful death," Abdullah Khashoggi, 33, told CNN in Washington with his brother, Salah, 35.
Without their father's body, the brothers say their family is unable to grieve or find closure.
"All what we want right now is to bury him in Al-Baqi (cemetery) in Medina (Saudi Arabia) with the rest of his family," Salah said.
"I talked about that with the Saudi authorities and I just hope that it happens soon."
Saudi Arabia has presented an evolving narrative about what happened to Khashoggi, a Saudi citizen, when he entered the consulate to get papers for his wedding with a Turkish national.
Saudi authorities initially denied all knowledge of his fate before later admitting that a group of rogue operators, many part of Crown Prince Mohammed bin Salman's inner circle, were responsible.
Riyadh has maintained that neither bin Salman nor his father, King Salman, knew of the operation to target Khashoggi.
But what has really come to trouble his two sons, their two sisters and their mother are the lies, they say, that have sprung up since Khashoggi's death.
Abdullah and Salah emphasised that their father was not a dissident and has been misunderstood and intentionally misrepresented for political reasons.
"Jamal was a moderate person. He was liked by everybody. He had differences and common values with everyone," Salah said, describing Khashoggi as a genuine, happy person and an "amazing" father.
"I see a lot of people coming out right now and trying to claim his legacy and unfortunately some of them are using that in a political way that we totally don't agree with."
"Public opinion is important... but my fear is that it's being over politicised. People are throwing analysis that may direct us away from the truth."
"Jamal was never a dissident. He believed in the monarchy that it is the thing that is keeping the country together. And he believed in the transformation that it is going through."
Asked how Khashoggi should be remembered, Salah replied, "As a moderate man who has common values with everyone... a man who loved is country, who believed so much in it and its potential."
Reflecting on their father's career as a journalist, they say Khashoggi was "like a rock and roll star" when they were out with him in Saudi Arabia.
Salah says he is waiting for the investigation to be over and for the facts to come out.
"The King has stressed that everybody involved will be brought to justice. And I have faith in that...," Salah said.
Asked if he was placing his faith in the King, Salah replied: "Yes."