Walking stick, baby walker, air conditioner, balloon and bangles are among the 193 "free symbols" issued by the Election Commission recently for Independents and candidates of unrecognised parties to pick from.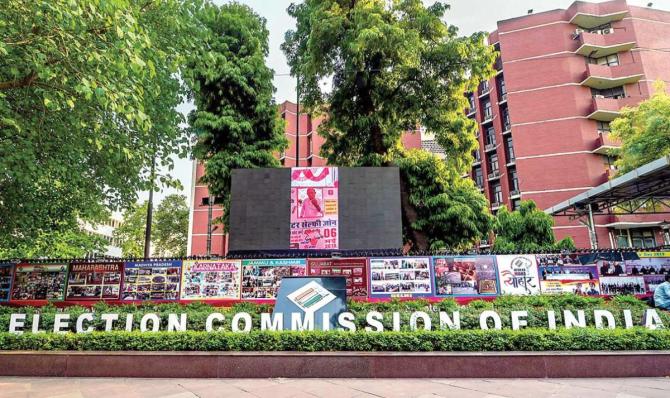 While recognised national and state parties contest assembly and Lok Sabha elections on their symbols, Independents and candidates of unrecognised parties have to choose their symbols from the list issued by the poll panel from time to time.
The fresh list issued by the EC on May 15 has 193 such "free symbols".
Among the free symbols are walking stick, baby walker, air conditioner, balloon, bangles, wheel barrow, whistle, window, wool and needle, water melon, walnut, wallet, violin, vacuum cleaner and trumpet.
The last part of 2023 would witness a series of assembly polls with the terms of the legislative assemblies of Mizoram, Chhattisgarh, Madhya Pradesh, Rajasthan and Telangana ending on different dates between December this year and January 2024.
While the term of the 40-member Mizoram assembly ends on December 17, the tenures of the Chhattisgarh and Madhya Pradesh legislative assemblies conclude on January 3 and January 6, respectively.
The tenures of the Rajasthan and Telangana assemblies end on January 14 and January 16.
Polls in these five states being held together cannot be ruled out at this stage.
Besides the scheduled polls, assembly elections in the Union Territory of Jammu and Kashmir cannot be ruled out this year.
Sources had earlier said that elections in Jammu and Kashmir may be held in the summer of 2023 after winter conditions subside, and the timing would depend on the security scenario.
After the conclusion of the 62-day long Amarnath Yatra from July 1 to August 31, a possible window sometime in October this year could be available for polls in Jammu and Kashmir.
The terms of the legislative assemblies of Andhra Pradesh, Arunachal Pradesh and Odisha are ending on different dates in June next year.
Since Lok Sabha polls are usually held in April-May, there is a likelihood that assembly elections in the three states could be held simultaneously with the parliamentary exercise.
© Copyright 2023 PTI. All rights reserved. Republication or redistribution of PTI content, including by framing or similar means, is expressly prohibited without the prior written consent.