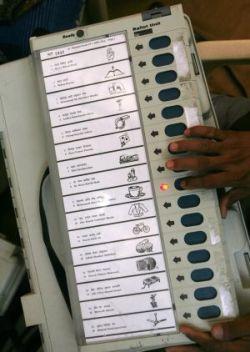 In view of the Supreme Court empowering voters with the right to reject, forthcoming Madhya Pradesh assembly elections will see electronic voting machines having a new and separate button for electorate not wishing to vote for any of the candidates in the fray.
According to an official release in Bhopal on Tuesday by pressing this button, voters will be able to use the option of 'no-voting' with secrecy.
By opting for 'None of the Above' button, they will be able to exercise their right to reject all candidates contesting the polls.
Last week, the Supreme Court has directed the Election Commission to make necessary provisions in the ballot papers/EVMs for the voters, who come to the polling booth and decide not to vote while maintaining their right of secrecy.
In accordance with the Supreme Court order, "None of the Above" shall be printed in a separate panel on the ballot paper below the name of the last contesting candidate.
This ballot paper shall be affixed on the Ballot Unit of the EVM. If the voter presses the button next to "None of the Above", his desire not to vote for any of the candidates in the fray will get recorded in the EVM with secrecy.
The commission will also make appropriate changes in Part-2 of Form 17C used during counting and the result sheet in Form 20 to separately compile the number of persons who use the option not to vote for any of the candidates in the fray.
The Election Commission of India will issue detailed instructions to ensure compliance with the apex court order as expeditiously as possible.
The Court passed the order on a PIL filed in 2004 by an NGO, People's Union for Civil Liberties, which had submitted that voters be given the right to negative voting.
© Copyright 2022 PTI. All rights reserved. Republication or redistribution of PTI content, including by framing or similar means, is expressly prohibited without the prior written consent.