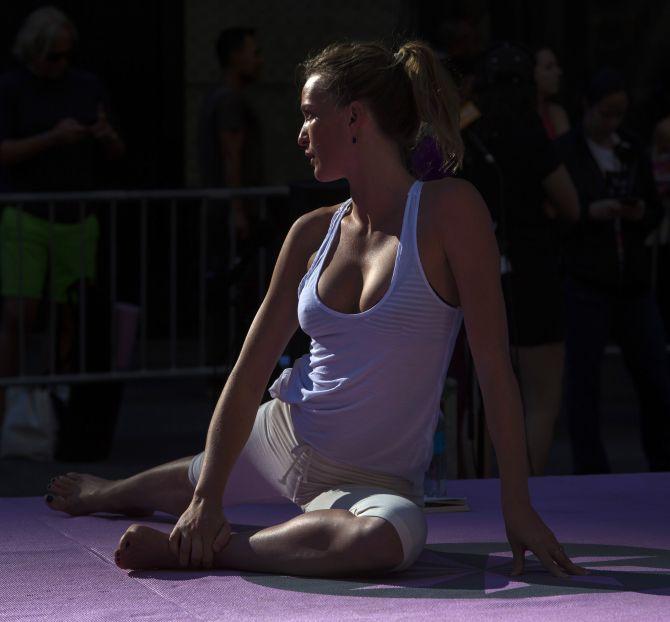 India's inherent strength in education, ancient concept and values is hailed and applauded abroad, says the BJP minister. Photograph: Eric Thayer/Reuters

Taking a jibe at critics alleging saffronisation of education, Union Human Resource Development Minister Smriti Irani on Monday said the country's inherent strength in education, ancient concept and values is hailed and applauded abroad but is described as "saffron" back in the country.
Referring to the controversy surrounding the yoga day celebration, she said, "I wonder whether all the 175 nations who supported us at the United Nations for celebrating the day were as saffron as we are."
Wondering if India's inherent strength should not be valued, Irani, who is accused of saffronising education, said even in the field of mathematics there has been accusation of saffronisation when India's ancient method of maths is explored the world over.
Speaking at a conference organised by the Hindu Education Board, she spoke about the criticism faced by well-known Mathematics professor of Princeton University Manjul Bhargava back home who confided learning the concept of maths through Sanskrit poems.
"...he is accused in television shows of saffronisation of mathematics. This is only possible in India that you have an ancient method of maths which is explored and applauded across the world, that becomes saffron back in India," she said, adding such criticism is possible only in India.
"Is everything Indian not to be valued? Is it possible in any country that we shy away from our own inherent strength, that we shy away from our own inherent heritage, our culture, our glorious history," the minister said.
She said the new education policy, which would be ready by the yearend would emerge as one that helps in nation building.
"Education is also not limited to policy draft, or school or university. It defines the existence of human being, the society," she said.
Slamming the current education system in the country for lacking "Indianness", joint general secretary of RSS Krishna Gopal said an education system should be such which connects students with their roots, their culture and provides spiritual integration.
Referring to former president and great educationist S Radhakrishnan, he said the late leader had said "un-Indian" character of education is one of the serious complaints against the system of education which has prevailed, in the country for over a century.
"But what have we done over the years to correct it," he said, giving an insight into the RSS take on the present education system. He said India has set up many IITs and IIMs but has failed to lend a vision or the philosophy that shape a graduate into a good human being.
"Where is the Indianness? The Indian mind is disturbed. Where is the spiritual wisdom? What is the purpose of education when a person becomes an engineer or doctor in mind but is not good at heart," he asked.
The present system, he said, is driven more towards generation and accumulation of resources by an individual, which does not augur well for the society, he said.
Gopal, who is the RSS pointsman for coordination with the Bharatiya Janata Party, advocated an education system that links with spirituality. Citing the Dalai Lama, he said, "Education is premised on materialistic values."
© Copyright 2021 PTI. All rights reserved. Republication or redistribution of PTI content, including by framing or similar means, is expressly prohibited without the prior written consent.