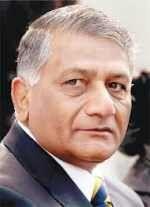 Former Army chief V K Singh's call for dissolution of Parliament and its gherao has raked up a debate whether a man who has commanded the 1.3 million-strong force should be making such demands involving the highest institutions of democracy.
Recent statements by Singh, first for dissolving the Parliament and then about its gherao in support of sugarcane farmers, have evoked mixed reactions from his predecessors and colleagues.
"It is not befitting of an ex-army chief to indulge in such activities. Even after retirement, he is looked upon by the serving people as their ex-chief and such things do not seem good.
"The Parliament is a supreme body in a functioning democracy of ours and cannot and should not be held hostage on any issue," Singh's predecessor Gen Deepak Kapoor told PTI.
Supporting his move to join politics, Maj Gen (retd) G D Bakshi said when 70 per cent of the American presidents can be ex-servicemen, then why can't Gen Singh enter politics.
"He is well within his rights to join politics as an ex-army chief as it is not just the domain of corrupt and criminals," he said.
Another former army chief Gen V P Malik said legally there was nothing wrong in what Gen Singh was doing but it was "inappropriate" on his part on propriety issues.
"One has to be careful about utterances in public as they can influence serving people. Ex Army Chiefs should be seen as responsible people and not making wild statements," Gen Malik told a TV channel.Commenting on Gen Singh's statements, Lt Gen (retd) Shankar Prasad said the language used was befitting that of a low-level politician.
At a meeting on Friday, Gen Singh supported the demand of farmers to reject the Rangarajan committee report on freeing the sugar sector.
The committee recommended doing away with State Advisory Price which will adversely affect the farmers of northern states, he said.
The farmer's body is planning a gherao of the Parliament on December 4 and when Gen Singh was asked if he would be part of the agitation, he suggested he may join it saying, "We will cross cross the bridge when we reach there... Whether that situation will come or not, we will see."
In an earlier conference with Anna Hazare, he had supported the demand of the social activist to dissolve Parliament.