Amid the exchange of words between Visva-Bharati and Nobel laureate Amartya Sen over the economist's alleged unauthorised possession of land, the university on Sunday asked the economist either to discuss the matter with it or the issue will be settled in court.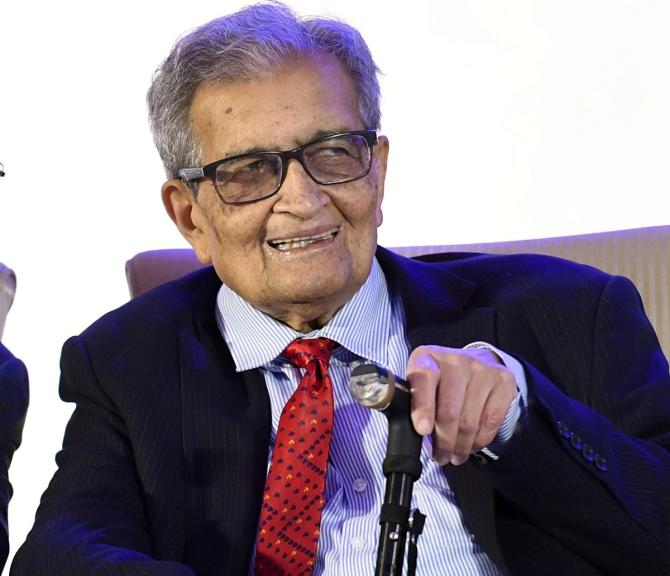 The central university issued a statement saying it is putting 'facts on record' and requests Sen to do what is required to be done to protect his self-esteem and Visva-Bharati's reputation.
'Two options are open: the confusion that Prof Sen seems to be happily nurturing shall be cleared with the intervention of the court of law or through discussion with the Visva-Bharati authority,' the statement read.
Alleging that a mudslinging is taking place by those seeking to fulfil their vested interests over the matter, the statement said the issue needs to be addressed freely and frankly with no baggage carried from distortions of the reality.
The university sent two letters within three days last week to Sen, asking him to immediately hand over the 0.13 acre of land he was allegedly occupying in an 'unauthorised manner' at the Santiniketan campus.
Sunday's statement reiterated the claims made earlier that Sen is in possession of 1.38 acres of land which is in excess of his legal entitlement of 1.25 acres.
'We have requested him to hand over the excess land and have also offered him the opportunity of a joint survey in presence of his surveyor/advocate,' the statement said.
Sen repeatedly asserted that most of the land he is holding in Santiniketan was purchased from the market by his father while some other plots were taken on lease.
Stating that of the 1,134 acres of land in possession of the central university, 77 acres were encroached till 2018, the statement said the authorities have reclaimed 15 acres from illegal occupants.
The drive towards evicting illegal occupants started in response to the central government order of November 30, 2017, it said adding: 'Individuals don't matter in our encroachment removal drive.'
Visva-Bharati sent two letters to the economist on January 24 and 27 seeking the land he is 'unauthorisedly holding' back.
After getting the first letter, he had wondered why the central university suddenly has become 'so active' in trying to drive him out of that place and he did not understand the politics behind it.
There have been allegations from certain quarters that the university's actions may be politically motivated given the fact that Sen has been critical of many central government policies.
Founded by the first non-European Nobel Laureate Rabindranath Tagore in 1921, Visva-Bharati was declared to be a central university and an institution of national importance by an Act of Parliament in 1951.