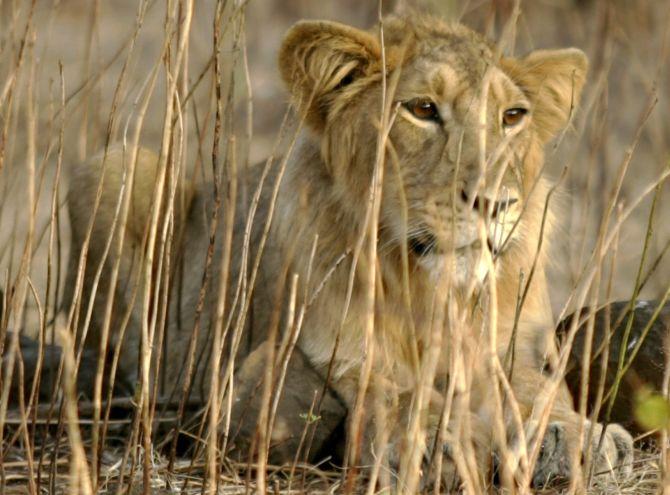 The Gujarat government on Monday told the high court that 17 of the 23 lions that died within a span of three weeks in September suffered from viral and bacterial infections leading to respiratory and hepatic failure.
The 23 lions had died in the Sarasiya range, which is part of Dalkhania range of Amreli district.
In an affidavit in response to queries raised by the division bench of Chief Justice R Subhash Reddy and Justice V M Pancholi, the Deputy Conservator of Forests, Junagadh, Dheeraj Mittal said, "The government is sensitive and serious of all issues" related to the well being of the big cats in Gir forest.
"As per the post-mortem report, 17 of these 23 lions died from bacterial and viral infection leading to respiratory and hepatic failure, three others died due to infighting, and case of death of remaining three could not be ascertained," Mittal said in the affidavit.
There has been no spread of the virus in other areas of the Gir forest, he said in the affidavit.
As per the affidavit, three lions from this range were shifted to Jasadhar rescue centre for treatment, while 33 lions from Semardi range of Sarasiya sub division were taken to rescue centres at Jamvala and Babarkot as a precautionary measure.
More than 600 lions, spread over 3,000 square kilometre range, have been "surveyed and examined", he said.
A total of 140 teams with 550 officers and forest guards have been constituted to "survey, observe and find out any lion who may be suffering from any illness or disease," the affidavit stated.
Vaccines imported from the US have been given to cattle, stray dogs and the entire canine population in seven villages of the Gir forest area, and order for 500 more vaccines has been placed, he said.
The government is consulting veterinary experts on lions and has requested service of serving and retired veterinary doctors of different zoos in the state.
The government is conducting "constant monitoring through patrolling, which will continue along with symptomatic health check-ups with the field staff," the affidavit stated.
"No effort will be left out to conserve, protect and maintain lions in Gir forest. The state government is sensitive and serious of all issues," the affidavit said.
On the issue of erecting parapet walls on open wells in Gir forest for safety of lions, the state government, in a separate affidavit, told court that out of a total of 50,517 open wells, 17,008 remain to be enclosed.
For this purpose, the government has decided to provide subsidy assistance of Rs 16,000 per well, the affidavit added.
The court is hearing two PILs, one by environmentalist Biren Pandya, and another a suo motu one, related to the large-scale deaths of lions in the Gir forest.
The court had, during the last hearing, asked the state to appraise it about the recent deaths of 23 lions in Gir forest.