Rashtriya Swayamsevak Sangh chief Mohan Bhagwat on Sunday condemned violence by cow protection groups, saying it "defames" the cause but made it clear that the Hindutva organisation wants a law banning cow slaughter across India.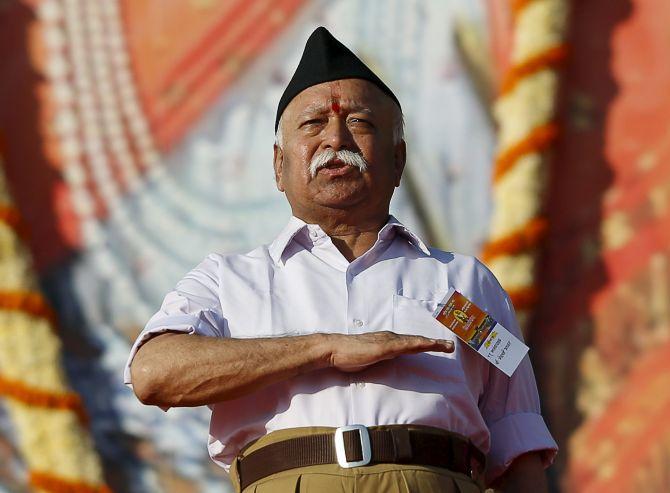 Calling cow slaughter a "vice" that must be removed, he pitched for stepping-up of cow protection efforts by bringing more people in the drive while "completely obeying the law and the Constitution".
His remarks at an event to observe the birth anniversary of Lord Mahavir came against the backdrop of the lynching of a Muslim man by cow vigilantes in Alwar in Bharatiya Janata Party-ruled Rajasthan that sparked protests from opposition parties and put the saffron party on the defensive.
"Nothing should be done while protecting cows that hurts the belief of some people. Nothing should be done that is violent. It only defames the efforts of cow protectors... The work of cow conservation should be carried out while obeying laws and the Constitution," Bhagwat said.
He said many states where RSS functionaries, a reference to BJP leaders with RSS background, have been in power have enacted such a law and expressed confidence that other governments will follow suit by dealing with local "complexities".
In several northeastern states, including some where the BJP is in power, cow slaughter is not banned while beef is consumed widely in states like Kerala and West Bengal where the party is working to emerge as a strong political force.
The RSS chief suggested that enactment of such a law everywhere will take time due to the complexities of politics.
If there is a law, it will be for promoting non-violence not violence, he said, noting, "There cannot be a law that says you do violence. It is impossible."
"I am confident that wherever RSS workers are in power, they will deal with local complexities and work in that direction," he said.
Cow protection should be promoted in such a way that it wins over more and more people to the cause and brings praise for those doing it, Bhagwat said.
Non-violent efforts will only help change the law accordingly, he said.
Whether there is a law or not if the society's behaviour changes, cow slaughter will stop, he said.
Bhagwat said as a veterinary doctor he is aware of a 'desi' cow's utility, including the usefulness of its urine and dung, and claimed that even scientific bodies have come to accept this.
Underlining that non-violence was an essential part to Mahavir's teachings, he said these can unite a society that has people of different faiths and behaviour.