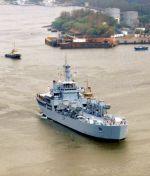 The simmering row between China and Vietnam over the disputed South China Sea came to the fore on Tuesday with Hanoi protesting over a Chinese patrol vessel firing on its fishing boat and Beijing defending its action as "legitimate and necessary" to protect sovereignty.
The government in Hanoi said a boat was fishing near the disputed Paracel islands, which Beijing calls as Xisha islands last week when it was "chased and shot at by a Chinese vessel" setting the cabin afire.
Vietnamese Foreign Ministry described the incident as "very serious" and lodged a formal complaint with the Chinese Embassy in Hanoi.
The Vietnamese government alleged that Chinese vessel chased and fired at the fishing boat and asked China to punish Chinese crew and pay compensation for the damaged boat.
Chinese Foreign Ministry Spokesperson Hong Lei, however, defended the action saying the Vietnamese boat was fishing in Chinese waters.
"Xinsha islands are China's inherent territory. China has indisputable sovereignty over the islands," Hong said on Tuesday.
"It is necessary and legitimate for China to take action against the Vietnamese fishing boat that has entered waters of China's Xinsha islands for illegal fishing," he said.
He said no damage has been caused to the fishing boat from Vietnam at that time.
"We urge the Vietnamese side to take effective measures to enhance the allocation and management of their own fisherman, so as to stop relevant illegal activities," he said.
China virtually claims sovereignty over South China Sea and its claims were contested by Vietnam, the Philippines, Brunei and Malaysia.
In the recent months, Chinese ships have aggressively began to patrolling the area which was resented by the Vietnam and the Philippines.
Hong said China has returned notice sent by the Philippines on its claims filed before the UN International Tribunal for the Law of the Sea asserting its sovereignty over the islands in South China Sea.
He said the Philippines complaint violated consensus and declaration of conduct, reached by China and ASEAN countries about resolving the disputes.
Accusing Philippines of making false accusations, Hong said China has returned relevant note and notice attached to it back to the Philippines side.
"Hope Philippine stick to promises and refrain from taking any action that may complicate and aggravate the situation and come back to back to correct path of negotiations," Hong said.