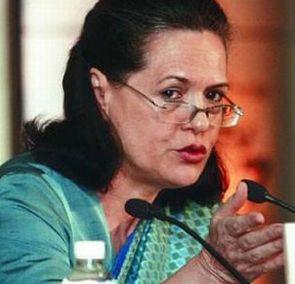 Doing some plain speaking, Congress President Sonia Gandhi on Wednesday conceded that lack of discipline and unity were among the reasons for the party's debacle in Assembly polls and asked the cadre not to despair and be ready for the "battle ahead" in 2014 general elections.
While acknowledging that there are many factors for the defeat, Gandhi said, "It is obvious that we have not been able to convince the people of our policies, programmes and achievements. We have not, it seems, been able to fulfil their aspirations."
Addressing the Congress Parliamentary Party meeting in New Delhi, the party chief also blamed lack of a "sense of discipline and unity" among the reasons for the party's defeat in Madhya Pradesh, Chhattisgarh, Delhi and Rajasthan.
"We should not lose heart. There is another battle ahead of us, in May 2014 for which we must ready ourselves. The Congress party has won and lost many elections. In victory or defeat, we must remember that it is our solemn duty to serve people to the best of our ability," she said.
In his address, Prime Minister Manmohan Singh said while the recent assembly election results have been "deeply disappointing", "we should not despair for the general elections in 2014."
Singh said that assembly elections results in a few states are necessarily not an indication of what will happen in the general elections that follows months later.
"The general election next year will be fought on issues of national importance. While some of these very issues, may have been involved in the assembly elections, we will be judged in May by how we respond on national issues," he said.
The Congress president also hit out at the Opposition, mainly the Bharatiya Janata Party, without naming it, and asked partymen to strongly speak against their ideology.
"Our opponents advocate policies of divisiveness and sectarian interests. They mock our secular ethos. Their ideology is illiberal and will prevent the continuing modernisation and emancipation of our country and our people."
"We must not be afraid to speak for our ideals. We must not be afraid to speak against those, who offer only a narrow and destructive alternative," Gandhi said.
The party also distributed a booklet among its MPs that carried the achievements of UPA government and asked them to propagate it among the electorate more effectively
While noting that the CPP meeting is being held in "trying and challenging circumstances," Gandhi said Congress has always risen to the occasion and "no odds are insurmountable".
"Adversity always tests us. And it is at such times that it is most important for us to reaffirm our unswerving allegiance to the principles of democracy, secularism, liberalism and inclusiveness. These are the abiding values of our party...the Congress way remains the only way in a country like ours defined by diversities," she said.
Claiming that Congress remains a unique political party in many ways, Gandhi said, "Let us go from here mindful of the challenges ahead but also mindful of the fact that no odds are insurmountable for a party such as ours, for a party with our legacy, with our history and with our track record of achievement."
Gandhi also accused the Opposition of spending much of its time in making "vituperative and completely baseless personal attacks" on Congress and the government including Prime Minister Manmohan Singh.
The Congress president said the party and the government can take pride in the fact that despite "very frequent disruptions," they have have been able to get landmark legislations including Lokpal, food security and land bill passed in Parliament.
"Yesterday, the Rajya Sabha passed the historic Lokpal Bill and I fervently hope that it will be approved by the Lok Sabha today. This law is watershed in our fight against corruption, which we began with the historic RTI in 2005," Gandhi said.
While she expressed her happiness over the Union Cabinet approving the Communal Violence Nill, Gandhi did not hide her unhappiness over non-passage of Women's Reservation Bill that seeks to provide 33 percent reservation to women in Parliament and state assemblies.
"I am unhappy we have not been able to get the Women's Reservation Bill passed in the Lok Sabha for want of consensus. But I know this will happen sooner than later. We can have the satisfaction of knowing that we got it approved in the Rajya Sabha," she said.
While noting that assembly election results in states except Mizoram have "not brought cheers" to Congress, Gandhi said the party lost in Delhi and Rajasthan despite all round development during Congress rule.
In Madhya Pradesh and Chhattisgarh, the Congress failed to dislodge the incumbent BJP governments despite a spirited campaign, she noted.
Gandhi said the party had come fairly close to dislodging the BJP government in Chhattisgarh and "had we shown greater unity of purpose, we might have succeeded ...Similarly in Delhi and Rajasthan, apart from a number of other factors including dissatisfaction of some sections of the people with our governments, we lacked a sense of discipline and unity."
The remarks are significant in the backdrop of Sheila Dikshit complaining after the defeat that she did not get full cooperation from the party's Delhi unit and the subsequent resignation of PCC chief J P Agrawal as well murmurs in Chhattisgarh that Ajit Jogi put up rebel candidates.
She said the victory in Mizoram was the sole exception thanks to the leadership of Lal Thanhawla and the resounding victory of Congress in the state was a "vote against militancy and separatism".
"It was a vote for harmony and integration," she said.
The prime minister said the record of the UPA government over the past nine-and-a-half years needs to be "projected more effectively" to the people.
He said the slowdown in growth to five per cent in succession has generated concern, especially in business circles.
"Some even think this has happened because the government doesn't care about growth, but only about inclusiveness. This is a completely mistaken impression. We care deeply about both", he said.
Singh said there should be no doubt that growth revival is high on government's agenda.
"True inclusiveness can only be achieved on the back of strong growth which will generate both the hobs that new entrants in the labour force need, and also the revenues to pay for programmes of inclusiveness".
The prime minister told the party MPs that there was a need to explain to the people that the global slowdown is part of the reason for the slowdown. He said China and other emerging markets have also slowed down.
The countries of the Eurozone have registered negative growth, he added.
"We should also frankly accept that there have been domestic problems also. Clearances have slowed down which has affected large infrastructure projects. Part of the reason for the slowing down is that the bureaucracy is hesitant to take decisions because decisions have been questioned by the CAG and the CVC in an environment where everything is politicised", he said.