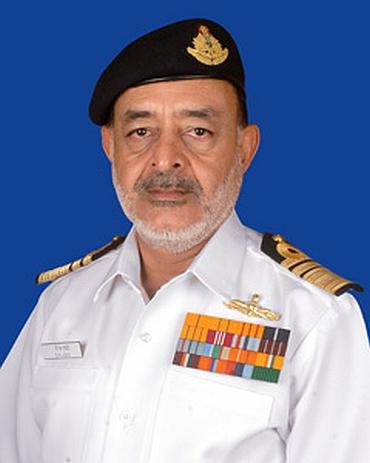 Vice Admiral Devendra Kumar Joshi, Western Naval Command chief and a specialist in anti-submarine warfare, was on Tuesday named as the new Navy chief to succeed Admiral Nirmal Verma whose tenure ends on August 31.
Fifty-eight-year-old Joshi is taking over the force at a time when it is set to operate two aircraft carriers and induct a large number of warships, long range surveillance aircraft and submarines. He will have a three-year tenure.
Joshi has commanded the tri-services Andaman and Nicobar Island command and also headed the Integrated Defence Staff headquarters in New Delhi. He also commanded the Vizag-based Eastern Fleet of the Navy.
Commissioned in 1974, the Vice Admiral has commanded the aircraft carrier INS Viraat, Guided-missile Destroyer Ranvir and corvette INS Kuthar.
A graduate of the Naval War College, United States, he is an alumnus of the College of Naval Warfare, Mumbai and the prestigious National Defence College in New Delhi.
Image: irfc-nausena.nic.in