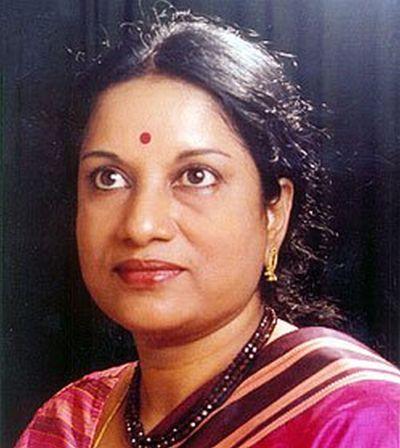 Iconic playback singer Vani Jayaram, who has crooned over 10,000 songs in 19 languages, including the very popular Hindi number 'Bole re Papihara' and who was named for the Padma Bhushan Award recently, died in Chennai on Saturday.
She was 77 and was living alone at a downtown apartment, where she was found dead, police said adding there was an injury on her forehead and further investigation is on.
Vani Jayaram's husband predeceased her and she had no children, the singer's domestic help said.
In her long and illustrious career of over 50 years, she has rendered a mine of memorable songs including the 'Bole re Papihara' from Hindi flick Guddi (1971), 'Yezhu Swarangalukkul' from Tamil film Apoorva Ragangal (1975) and 'Malligai En Mannan Mayangum' (1974 Tamil movie Deerga Sumangali).
She has worked with iconic musicians including M S Viswanathan and Ilaiyaraaja.
Former Chief Minister and top star in her times J Jayalalithaa was among those for whom Vani Jayaram has sung.
Born Kalaivani in Vellore in Tamil Nadu, she was a versatile singer in various languages.
She has sung over 10,000 songs in 19 languages including Tamil, Malayalam, Hindi, Telugu and Kannada.
Prime Minister Narendra Modi, Tamil Nadu Governor R N Ravi, Chief Minister M K Stalin, Kerala Governor Arif Mohammed Khan and Chief Minister Pinarayi Vijayan, All India Anna Ddavida Munnetra Kazhagam interim chief and leader of opposition K Palaniswami were among a host of leaders who condoled her death.
In their condolence message, several musicians and celebrities praised her for her modesty .
On his twitter handle, Modi said: 'The talented Vani Jairam Ji will be remembered for her melodious voice and rich works, which covered diverse languages and reflected different emotions. Her passing away is a major loss for the creative world. Condolences to her family and admirers. Om Shanti.'
After they were informed, the police said they managed to open the door to the flat in the presence of Vani Jayaram's relatives in the afternoon.
The singer's maid said she turned up as usual for work on Saturday.
However, she did not get any response despite repeatedly pressing the calling bell, she told reporters in Chennai.
Immediately, she said, she alerted the singer's relatives who informed police.
Malarkodi, who has been working for the past 10 years as a maid in the singer's house, said Vani Jayaram did not have any health issues.
"She was busy receiving guests and well-wishers who visited her to greet her for getting the Padma Bhushan award. Phone was endlessly ringing and she answered all the calls and thanked everyone who greeted her. She lived alone," the woman said.
© Copyright 2023 PTI. All rights reserved. Republication or redistribution of PTI content, including by framing or similar means, is expressly prohibited without the prior written consent.