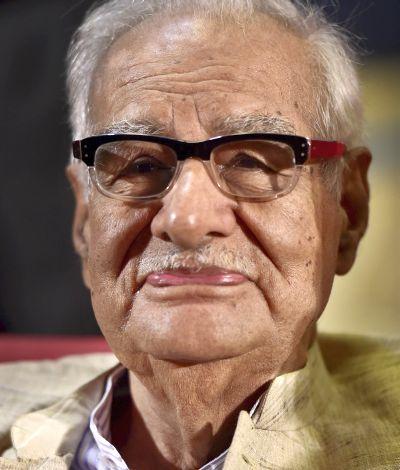 Eminent journalist and author Kuldip Nayar, who fought fiercely for press freedom and civil liberties, died in New Delhi early on Thursday. He was 95.
Nayar died around 12.30 am at the Escorts hospital, his elder son Sudhir Nayar said. He was suffering from pneumonia and was admitted to the hospital five days ago.
The veteran journalist, a proponent of India-Pakistan peace, is survived by his wife and two sons.
His last rites were performed at the Lodhi crematorium in New Delhi at 1 pm.
Nayar, who was born in Sialkot in Pakistan in 1923, began his career in journalism in the Urdu language press and went on to serve as editor of several newspapers, including Indian Express and The Statesman.
Known not just as one of India's most respected journalists but also as an advocate for human rights, Nayar served as India's high commissioner to the United Kingdom in the 1990s and was nominated to the Rajya Sabha in 1997.
The journalist-author was arrested during the Emergency.
Condolences poured in as news of his death came in.
Describing Nayar as a veteran editor and writer, diplomat and parliamentarian, President Ram Nath Kovind said he was 'a determined champion of democracy during the Emergency' and would be missed by his readers.
'Sad to hear of the passing of Kuldip Nayar, veteran editor and writer, diplomat and parliamentarian, and a determined champion of democracy during the Emergency. His readers will miss him. Condolences to his family and associates #PresidentKovind,' the official Twitter account of the Rashtrapati Bhavan posted.
Prime Minister Narendra Modi said Nayar's strong stand against the Emergency, public service and commitment to the country will always be remembered.
'Kuldip Nayar was an intellectual giant of our times. Frank and fearless in his views, his work spanned across many decades. His strong stand against the Emergency, public service and commitment to a better India will always be remembered. Saddened by his demise. My condolences,' Modi said in a tweet.
The Editors Guild of India said in its message that Nayar's many legendary news scoops will continue to inspire generations of young journalists for their sharpness, credibility, speed and standards of due diligence.
Nayar, a founder member and president of the Guild, was one of the doyens of Indian journalism, it said in a statement.
Terming him a 'reporter's editor', the Guild said he held many leadership positions in news organisations, providing both edge and depth to their formidable team of reporters and editors.
'An exemplar, Kuldip Nayar fought through his writings the oppressive Emergency regime that had imposed curbs on media freedom and as a result of which he was also arrested,' it said.
The Guild, it said, will also soon consider a proposal to honour Kuldip Nayar's memory and contributions to journalism.
Bharatiya Janata Party president Amit Shah, West Bengal Chief Minister Mamata Banerjee and Finance Minister Arun Jaitley were among the others who condoled the death of the veteran journalist, whose columns and op-eds were published in over 50 newspapers.
Editor of The Week magazine Sachidanand Murthy remembered Nayar's contribution in protecting press freedom and civil liberties.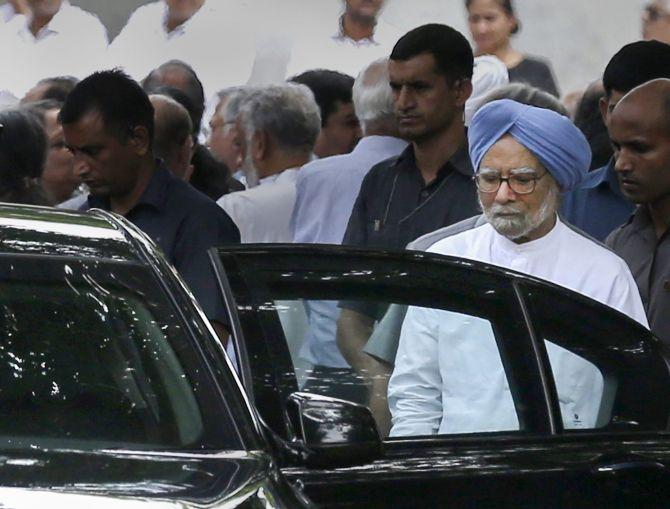 "He had protested the infamous Defamation Bill which was brought by the Rajiv Gandhi government in late 1980s. He had also worked tirelessly to ensure protection of civil liberties in India," said Murthy.
The Defamation Bill was seen as an attempt to contain free speech in India. The government withdrew the bill following massive protests.
The journalist, who in historian Ramachandra Guha's words followed the dictates of his conscience rather than the lure of money or fame, wrote several bestsellers, including Beyond the Lines: An Autobiography and Between the Lines.
One of Nayar's most enduring images will be of him leading peace activists in lighting candles at the Attari-Wagah border on the Independence Days of India and Pakistan -- while India celebrates its Independence Day on August 15, Pakistan does so a day earlier.
Former prime minister Manmohan Singh condoled the demise of the veteran journalist, saying he donned many hats in his decades of public life.
In a letter to the late journalist's wife, Bharti, Singh said Nayar had served the country in various capacities and with great distinction.
'I have learnt with profound sorrow about the sad demise of your beloved husband Kuldeep Nayar. He served the country in various capacities with great distinction. He was a veteran journalist, diplomat, parliamentarian and author. He wore many hats in his decades of public life.
'I write to convey to you and members of your family my heartfelt condolences on this sad occasion. May God give you strength to bear this great loss with courage and fortitude,' he said in his condolence letter.
Union Finance Minister Arun Jaitley said Nayar's contribution to the cause of free speech was unparalleled.
'Saddened by the death of the veteran Journalist Sh. Kuldip Nayar. His contribution to the cause of free speech is unparalleled. He is credited with breaking some of the most exclusive news stories. Will be best remembered for his struggle against the emergency,' he said.
Union ministers J P Nadda, Ashwini Choubey, Harsh Vardhan and other leaders also expressed their condolences.
'Saddened by the death of veteran journalist and author #KuldeepNayar. He championed Freedom of the Press and was an ardent advocate of human rights. My condolences to his family, friends and the fraternity of journalists,' DMK Working President M K Stalin tweeted.
Telangana Chief Minister K Chandrashekhar Rao also conveyed his condolences to the family.
Communist Party of India-Marxist leader Sitharam Yechury said that 'his (Nayar's) advocacy of people-to-people ties with Pakistan was special'.
He said Nayar always vigorously supported democratic rights and civil liberties.
West Bengal Chief Minister Mamata Banerjee expressed her grief and extended her condolences to Nayar's family, admirers and colleagues.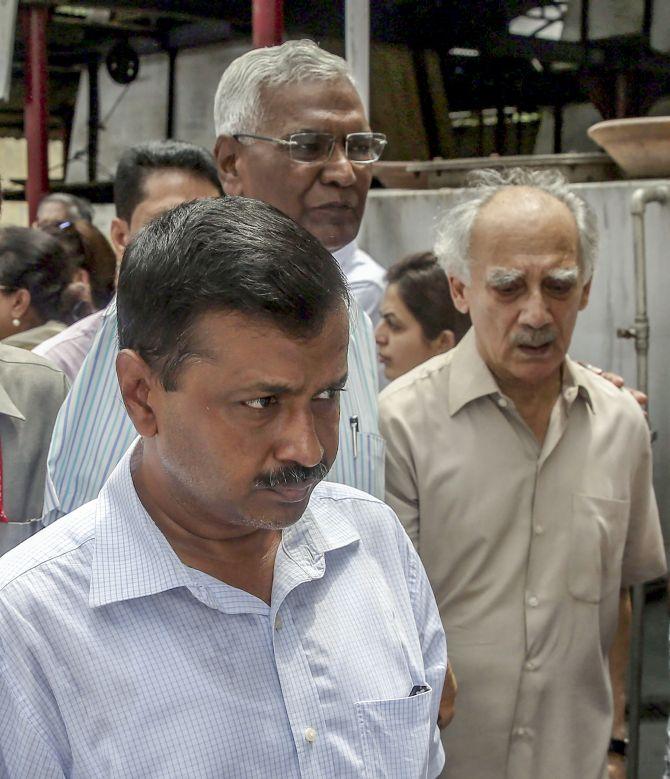 The Punjab cabinet, led by Chief Minister Amarinder Singh, observed one-minute silence as a mark of respect to Nayar. It described him as a multi-faceted personality, who served in different capacities, an official release said.
The mortal remains of Nayar were consigned to flames at the Lodhi Crematorium. The funeral was attended by former vice president Hamid Ansari, former prime minister Manmohan Singh, Union minister Rajyavardhan Singh Rathore, Delhi Chief Minister Arvind Kejriwal and his deputy Manish Sisodia, photographer Raghu Rai, artist Jatin Das, and several journalists and former colleagues.
Raghu Rai, who worked with him during the 60s and 70s at the The Statesman, described his departure as an 'end of an era'.
"He was last of those editors, who stood for truth, honesty and commitment in their profession. And, till the last days, he stood for integrity and commitment for his country that he loved so deeply," the photographer said.
Rathore said Nayar was not just an eminent journalist, 'he was an institution in himself', in every aspect.
"He stood steadfast in what journalism stands for, a true definition of it in every aspect, intellect-wise or the ability to keep people informed without any prejudice. And, I hope and pray that his legacy continues," he said.
Kejriwal, who attended the funeral along with Sisodia, described Nayar's death as a 'great loss to the nation'.
"His absence will be sorely felt," the chief minister said.
Shiromani Akali Dal leader Naresh Gujral, Swaraj India leader Yogendra Yadav and NITI Aayog CEO Amitabh Kant also attended the funeral.
"He was in true sense the embodiment of the idea of India, the very facet of secularism as enshrined on our Constitution. Also, journalists and activists have benefited from his presence and encouragement," Yadav said.
The Swaraj India leader recalled his student days at the Jawaharlal Nehru University in early 1980s, when he had attended a talk by Nayar in a hostel mess.
"I had read his articles and was aware of his work already, but to see and hear him talk left quite an impression," he said.
"He belonged to the generation uprooted during the partition, but never had bitterness towards anyone," Yadav said.
Rai also recalled the time when he had shot Nayar's photograph for the cover photo for his book, Beyond the Lines: An Autobiography.
"He asked me if I could take a picture of him for the book. And, I told him - 'You don't ask me, you order me'. He was a great humanist too and very sensitive to every situation and people he dealt with.
"He was not a man of ego, but of grace and dignity. His school of journalism was class apart. Today, the fast food generation, and infotainment concept has diluted everything," Rai said.
Historian Ramachandra Guha had once described Nayar as a journalist who followed the dictates of his conscience rather than the lure of money or fame.
Nayar's son, Rajiv Nayar, 62, said, "He was a stalwart in his field, a mine of experience. For us in the family, he was a source of inspiration every day."