In a tragic incident, Veenu Paliwal, India's top woman biker died in a road accident in Vidisha district of Madhya Pradesh's on Monday evening.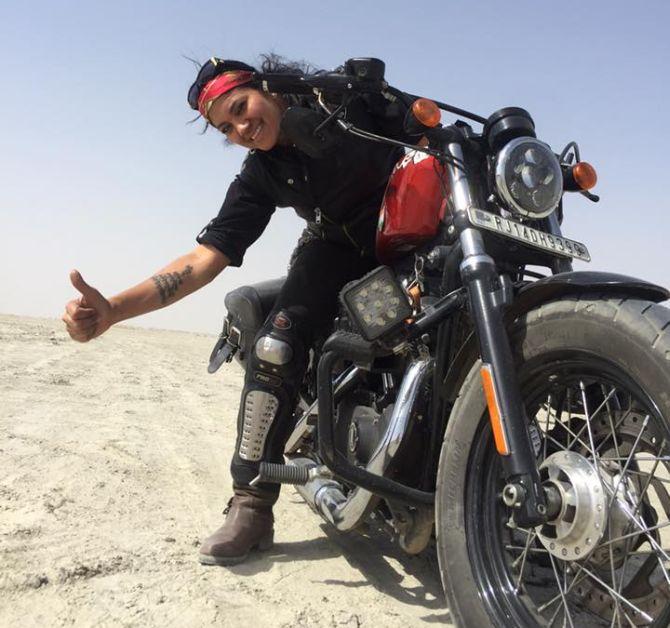 IMAGE: Veenu Paliwal riding her Harley Davidson. Photograph: Veenu Maliwal/ Facebook
In a tragic end to her passion for motorcycle ride, woman biker Veenu Paliwal, known as "Lady of the Harley", died as her two-wheeler skidded off a road near Gyaraspur town in Vidisha district, police said on Tuesday.
The 44-year-old Jaipur resident was on a motorcycle trip from Kashmir to Kanyakumari with her companion Dipesh Tanwar when the mishap happened yesterday, Rajesh Tiwari, In-charge Kotwali police station said.
The duo had started their journey from Lucknow during early hours for Bhopal on separate Harley Davidson bikes.
Paliwal's motorcycle skidded off the road near Gyaraspur and was seriously hurt, Tiwari said.
After primary treatment at Gyaraspur, she was moved to Vidisha for treatment where she succumbed to her injuries.
Her autopsy revealed that she succumbed as her liver got badly damaged in the accident, Dr B L Arya who conducted the post-mortem said, adding internal injuries resulted in her death.
Later her body was taken by her companion and two other friends to Jaipur in an ambulance.
An official of Harley Davidson company also reached Vidisha upon knowing about the accident.