The long-term plans for Varanasi will take time to materialise but what has changed is the mood, says Aditi Phadnis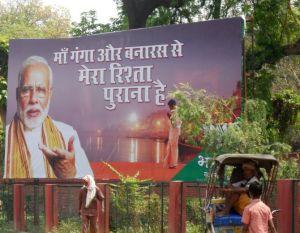 Earlier, the two railway stations in Varanasi -- Mughalsarai and Varanasi Cantt, now Varanasi Junction -- used to be filthy. They have been cleaned up since the city elected Narendra Modi: The stations may still be far from being sparkling and pristine but at least refuse doesn't lie around on the platform any more. "The towels you get in Kashi Vishvanath Express (a train that runs between Delhi and Varanasi) are now a little less threadbare. The sheets are cleaner," Alok Rai, a long-time resident of Varanasi, says with a laugh. He's describing how the city's importance has changed since Narendra Modi's election.

It has had its first VIP bureaucrat: Urban Development Secretary Sudhir Krishna is in Varanasi for a survey. Faces in the secretariat are beaming: At last, Varanasi might get its due.

Eastern Uttar Pradesh has been an area of historical neglect by successive governments in Lucknow. And, because the Bharatiya Janata Party hasn't been able to form a government in the state for nearly two decades, two of the biggest cities in this area -- Varanasi and Gorkhapur -- have languished. This manifests itself in strange ways in Varanasi.
Years ago, the government established a turtle sanctuary on the river bank opposite Varanasi Ghats. That got the status of a national wildlife sanctuary. The idea was to breed turtles, which would purge the river of all the debris, including half burnt human bodies, and clean the Ganga ecologically. But the turtles could not keep up with the pollution. Around 30,000 turtles were introduced in the river. Barely 100 have survived.

However, because it was a wildlife sanctuary, it was out of bounds for all kinds of housekeeping. This included desilting the river. So, as bars of silt accumulated on one side of the river, the Ganga was forced to change its course. It began lapping, with greater force, against the ghats. Any mallah on the river will show you, using his oars, how the sand on which the ghats rest is being progressively eroded. The oars, when they strike the ghat, make a hollow sound. If this continues, says District Magistrate Pranjal Yadav, one day the ghats will just topple into the river. He is begging everyone, anyone, to either shift the sanctuary further or allow desilting in situ. Now that it is a VIP constituency, maybe somebody will listen.

The long-term plans for Varanasi will take time to materialise. What has changed, though, is the mood. The city used to have power cuts of six to eight hours. That has stopped. "All it took was one election: We now have power for 20 of 24 hours. So why could that not have been ensured earlier? Obviously, some skulduggery was afoot," says A P Gautam, a bureaucrat. "How did the state government suddenly find power for Varanasi?"

Cleanliness in the city is still a big issue and the administration is struggling to resolve it. For Rs 50, an agency engaged in waste collection would pick up household waste and treat it. That was a state-wide contract. The contract has now ended but its replacement is yet to be appointed. The result: Waste still lies in heaps on streetcorners. "Local municipal street-cleaning staff are not in the habit of working," says a bureaucrat frankly "and we don't have the capacity to enforce order". The solution is privatisation but that doesn't seem to be working, either.

The worst areas are the Muslim habitations of Bajardeeha and Saraiya. Houses are built with no thought for sanitation or cleanliness and the lanes separating them are barely two feet wide. Sewage flows in shallow open 'naalis' that overflow every August and September. "I have distributed rations to thousands of families standing in knee-deep sewage. It happens year after year, without fail," says a civil supplies depot official, shuddering. "This place is a hell-hole".

Obviously, nothing can change overnight. But things are happening in Varanasi. In the past year, the district administration has steadily removed encroachment and widened roads. The job is far from over but roads that had been taken over by itinerant vendors, car repair shops and others are now free for traffic. Vehicular movement is still shambolic but it does keep moving. The quality of roads is still poor but at least they are now usable.

The administration is now preparing a list of demands: The road to Sarnath, a major tourist attraction, is indescribably bad. It is a National Highway. Maybe now it will see improvement… maybe the government will consider an elevated metro in Varanasi… Maybe the city will have a ring road that will enable visitors to avoid the congestion inside the city and bypass it when they use the airport.

After many years, Varanasi is now daring to dream. It is now feeling empowered enough to say: We need help.
Photograph: Savera R Someshwar/Rediff.com