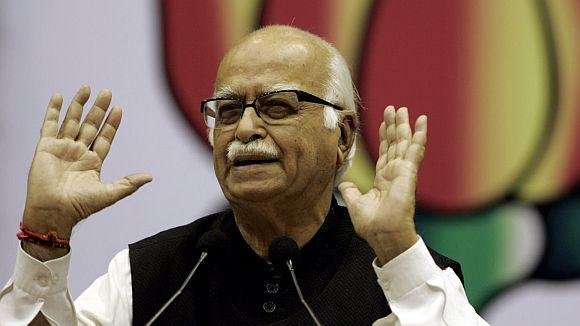 A day after Prime Minister Narendra Modi's surprise Lahore visit, Bharatiya Janata Party veteran L K Advani on Saturday said Modi and other leaders in the government should work to carry forward Atal Bihari Vajpayee's initiative for improving Indo-Pak ties and get rid of problem of terrorism.
He, however, skirted a query on the issue of suspension of party member of Parliament Kirti Azad who had made allegations of corruption against Delhi and District Cricket Association in which Union Finance Minister Arun Jaitley has come under attack.
"The efforts initiated by Vajpayeeji need to be taken forward," Advani said on a question of surprise visit of Modi to Lahore.
"Modiji and others in the government should steadfastly improve relationship with Pakistan and get rid of terrorism, which has been an issue between both the countries," Advani said.
Vajpayee had travelled to Lahore in a bus from India in 1999 and started a peace initiative with Pakistan in 2004.
Modi on Friday, during his return from Kabul, had a surprise stopover at Lahore and went to the home of Pakistan Prime Minister Nawaz Shairf on his birthday.
Advani, who had met other BJP veterans like Murli Manohar Joshi and Yashwant Sinha on Thursday to discuss suspension of Azad, did not respond to the question on the issue.
© Copyright 2021 PTI. All rights reserved. Republication or redistribution of PTI content, including by framing or similar means, is expressly prohibited without the prior written consent.