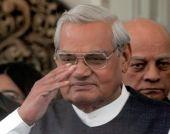 Former Prime Minister Atal Bihari Vajpayee on Tuesday turned 88 with senior leaders, led by Prime Minister Manmohan Singh wishing him a healthy life.
Singh drove down to Vajpayee's 6A, Krishna Menon Marg residence and spent about 15 minutes with the veteran leader.
President Pranab Mukherjee also sent Vajpayee a bouquet of flowers.
BJP President Nitin Gadkari, senior BJP leaders L K Advani, Sushma Swaraj, Deputy Speaker Kariya Munda were among Vajpayee's early visitors.
"He received us with a smile," BJP chief spokesman Ravi Shankar Prasad told reporters after greeting Vajpayee.
Born in the family of a humble school teacher on December 25, 1924, in Gwalior, Vajpayee's began his career first as a poet, dabbled in journalism and later rose to become one of the most widely regarded political leaders of the country.
During his six-year tenure as prime minister, Vajpayee took the bold step of conducting the nuclear tests at Pokhran in May 1998. He is also considered a guru of coalition politics, who successfully led a government supported by as many as 24 political parties.
Among the BJP leaders who greeted him were Rajnath Singh, Shahnawaz Hussain, Kalraj Mishra, Rajiv Pratap Rudy, Vijay Goel and Ananth Kumar.
"Vajpayee is a role model for the whole country for good governance. He is also known as guru of coalition politics. He led the nation on the path of progress," Kumar said.
"We all wished him very good health and long life. So that he continues to be an inspiration for all of us," he said.
On the occasion, BJP leaders also distributed blankets to the poor.
The sleepy village of Prini near Manali, where Vajpayee has a small house, also celebrated the birthday of their beloved leader with village elders performing a special pooja and havan for his good health and long life.
Thakur Das, the village president said, "Vajpayeeji has done a lot for Himachal Pradesh and we all villagers always have fond memories of his visits".
Vajpayee used to come to Pirni every year in summers till his health deteriorated but he is still in touch with villagers.
Vajpayee turns 88, Shivraj Chouhan wants Bharat Ratna for him
Meanwhile, Madhya Pradesh Chief Minister Shivraj Singh Chouhan has demanded conferring of Bharat Ratna – the highest civilian honour -- on Vajpayee.
Speaking to reporters in Bhopal on Monday evening after opening an exhibition dedicated to the veteran BJP leader, the chief minister described Vajpayee a staunch patriot and a great scholar.