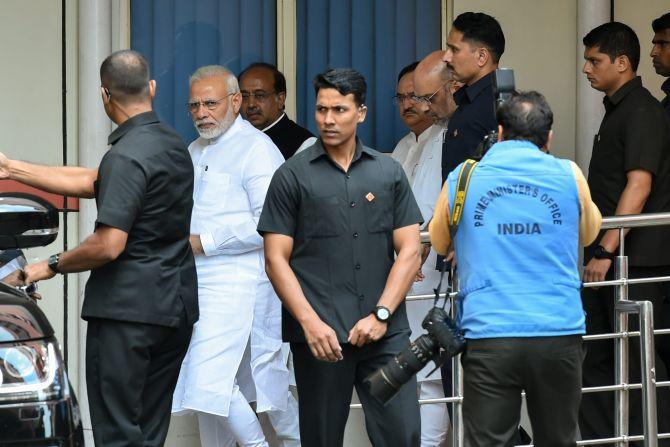 Former prime minister and Bharatiya Janata Party patriarch Atal Bihari Vajpayee is battling for life and remains on advanced life support at the All India Institute of Medical Sciences for the second day, hospital officials said on Thursday.
Prime Minister Narendra Modi on Thursday visited AIIMS to enquire about the health condition of Vajpayee, his second visit in less than 24 hours.
BJP president Amit Shah also reached the hospital for the second time since morning. The prime minister was at the hospital for a little over 45 minutes.
As anxiety grew about the state of the 93-year-old leader's health, a stream of leaders, including Vice President M Venkaiah Naidu and Union ministers Sushma Swaraj and Rajnath Singh, visited the hospital.
Several government events have either been postponed or cancelled.
The BJP postponed its two-day national executive, slated for August 18-19.
"As of now, the national executive has been postponed, and its dates will be finalised later," a party leader said.
A health bulletin from the premier hospital said Vajpayee's 'condition continues to be the same. He is critical and on life-support system'.
'Both his lungs are not in good condition because of pneumonia on both sides and kidneys are also weak. He is critical,' a source said.
The former prime minister was admitted to the hospital on June 11 with a kidney tract infection, urinary tract infection, low urine output and chest congestion.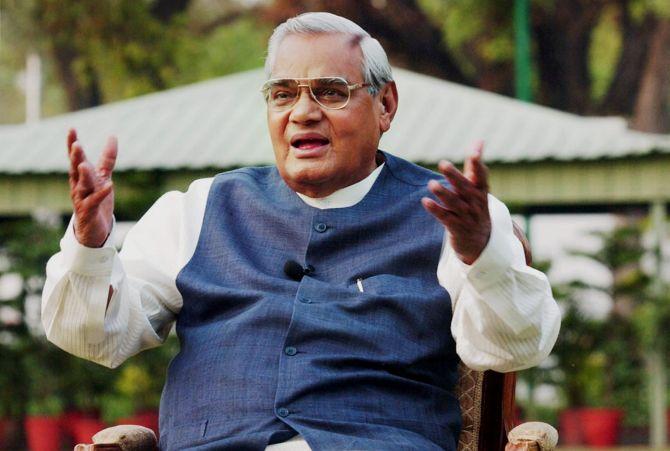 Among those who visited the hospital were Union ministers Ram Vilas Paswan, Radha Mohan Singh and J P Nadda as well as National Conference leader Farooq Abdullah and Delhi Chief Minister Arvind Kejriwal.
BJP veteran L K Advani, who along with Vajpayee expanded the party's base in 1990s, also visited the former PM.
"We all should pray for his recovery. His condition is serious...We should not forget that he is a leader who wanted to make the country strong. He wanted peace not only in our country but the whole world," Abdullah said.
A number of chief ministers, including Madhya Pradesh's Shivraj Singh Chouhan, West Bengal's Mamata Banerjee, Bihar's Nitish Kumar and Assam's Sarbananda Sonowal, are expected to arrive in New Delhi later on Thursday.
"He is our idol. His presence itself gives us inspiration and encouragement. We are praying for his health," Chouhan said.
Bihar Chief Minister Kumar said, "I have been fortunate to receive much affection and advice from Atal-ji and an opportunity to understand public life... He was like a guardian to me. I wish him speedy recovery."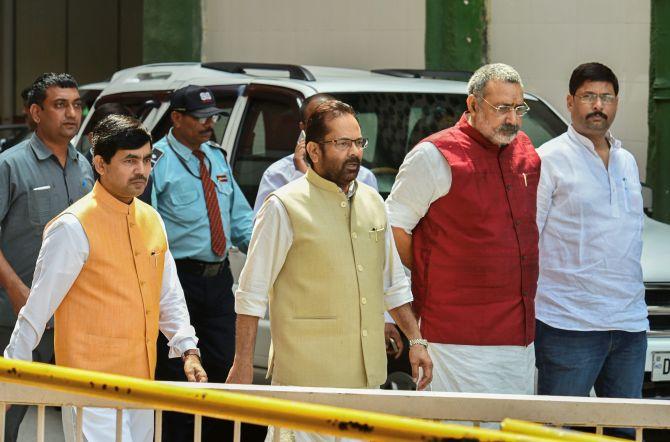 Some members of the bachelor leader's relatives have come to Delhi from Gwalior.
On Wednesday night, the hospital said Vajpayee's condition had worsened and he was on life-support systems.
A team of doctors form various departments including nephrology, gastroenterology and cardiology are taking care of Vajpayee.
Modi visited the hospital on Wednesday evening to enquire about Vajpayee's condition. He reached around 7.15 pm and spent about 50 minutes there.
Vajpayee, a diabetic, has only one functional kidney. He suffered a stroke in 2009 that weakened his cognitive abilities. Subsequently, he developed dementia.
A large crowd of mediapersons and others have gathered outside the hospital in south Delhi to get updates on Vajpayee's heath, affecting movement of traffic on the road today. Policemen have been deployed to manage the crowd and traffic outside the hospital.
Delhi Police has put traffic restrictions around AIIMS.