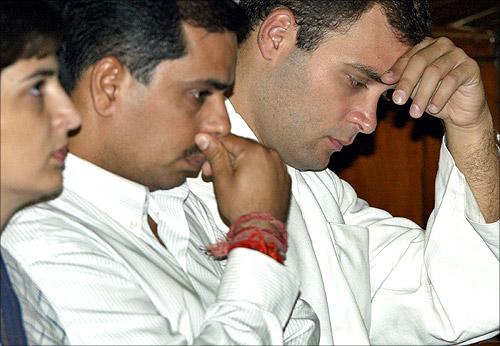 Trouble is brewing for the Congress in Haryana with its Gurgaon Lok Sabha Member of Parliament Rao Inderjit Singh making a statement that Congress president Sonia Gandhi's son-in-law Robert Vadra must be punished if he is found guilty of 'sham land deals' in Haryana. Reenu Mittal reports
Singh has been unhappy for quite some time with the leadership of Chief Minister Bhupinder Singh Hooda, and has been termed a 'dissident'.
Sources in the Congress say that Singh wants the party leadership to suspend him from the party so that he can explore other options. But for the Congress leadership it's a tricky situation, since any action against Singh on the issue of Vadra would look like a personal vendetta on the part of Sonia, since he is her son-in-law. But if the matter is not handled properly, it can be embarrassing for the party.
Indian Administrative Service officer Ashok Khemka's report is out in the public domain at a time when Parliament is in session and opposition parties are prepared to raise the issue in the house. On Monday, the Congress ensured that it could not be taken up.
The Bharatiya Janata Party had decided to take up the issue at 11 am and the Kishtwar violence at 12 pm, but just before the house began, the Rajya Sabha chairman called the leader of the opposition and asked that they should take up the Kishtwar issue.
Half the day went in that with the opposition unable to take up the matter.
The Congress has decided that whenever the opposition takes up the Vadra issue, they would counter it by raising the issue of land allocation to senior BJP leader L K Advani's daughter Pratibha in Gujarat.
Probably this and few other issues may have forced the BJP to tread carefully on the Vadra issue. Within the congress a host of senior leaders such as Kumari Selja, Chaudhary Birender Singh and others are against Hooda and have been campaigning for his removal, but Congress sources say that Vadra's land deals have led to the chief minister consolidating his position in the party and the state.
In the local press, there is also a great deal of information which is now coming out in bits and pieces on the acts of omission and commission of Hooda and his family members regarding various land deals, which is a highly lucrative business in Haryana.
This has come at a time when former chief minister Om Prakash Chautala and his son are out on interim bail, and once they return to active politics, the assessment is they would prove to be tough challenge to Hooda and his supporters as the Jat voter is expected to shift to Chautala by the next election.
Singh has said that a detailed inquiry must be conducted to 'substantiate or refute' the charges against Vadra, an entrepreneur whose business deals with real estate major DLF have been questioned by Khemka.

In April, Khemka was transferred from his post in Haryana amid his attempt to cancel one of those land deals. He said that a 3.5-acre plot sold by Vadra to DLF had been transacted in violation of all guidelines and that a license for the land to be used for a commercial project had been endowed to Vadra to allow him windfall gains.
In a report submitted to the government where he was asked to justify his conclusions, Khemka has detailed why he believes the 58-crore sale was fake. The Haryana government has repeatedly said that Vadra received no preferential treatment.
The party leadership is waiting and watching before taking action against Singh, and there are attempts to ensure that he does not speak publicly anymore. By Monday evening, Rao's second statement had already come, which looks like a 'damage control' exercise by the party.