Satara, Sangli, Panvel have stopped vaccination while Buldhana has only one day's vaccine doses left in stock, said Maharashtra Health Minister Rajesh Tope on Thursday.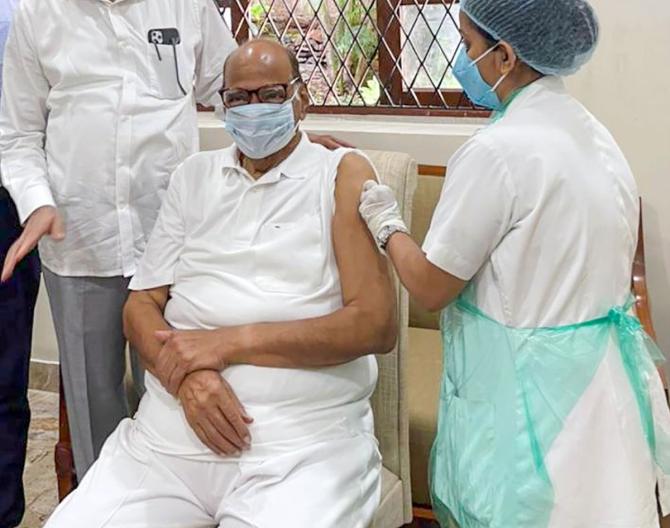 Tope informed that Satara, Sangli, and Panvel centres have stopped the COVID-19 vaccination drive after running out of stock.
The health minister earlier had said his government would raise issues of COVID-19 vaccine and Remedisivir drug shortages before Prime Minister Narendra Modi in the virtual meet scheduled for Thursday.
He had further said that instead of supplying vaccines to other countries, supply them to our own states first.
Maharashtra wants at least 40 lakh vaccine dosages every week, he said.
Meanwhile, Lok Sabha MP and Nationalist Congress Party leader Supriya Sule on Wednesday alleged that about 109 vaccination centres remained shut in Pune due to a shortage of vaccines.
Sule also alleged that several people had to return home without getting vaccinated.
In a tweet, she said, 'Pune District vaccinated 55,539 persons in 391 vaccination centres today. Several thousand people went back without being vaccinated because the vaccines stock was exhausted.'
'109 centres remained shut today because they had no stock of vaccines. Our momentum may be lost due to lack of stock, we remain determined to vaccinate every consenting person to save lives, to break the chain of infection and to get our economy back on its feet at the earliest,' she tweeted.
'Requesting Hon. Dr Harsh Vardhan ji to kindly help us with the COVID 19 vaccines,' the tweet further read.
Pune district reported 10,907 new COVID-19 cases, 62 deaths and 7,832 recoveries in the last 24 hours, as per the district health department on Wednesday.
With this, the total cases mounted to 6,04,037 including 84,526 active cases and 5,09,278 total recoveries.
The death toll however rose to 10,402 including the new deaths.
Odisha
The Odisha government also halted the inoculation drive in 700 centres due to shortage of vaccines and moved the Centre seeking immediate supply of 25 lakh Covishield doses.
'Due to shortage of vaccine, we have to close nearly 700 vaccination centres in the state (out of over 1400 functional sites). Only 755 could be made active today,' Odisha's Health and Family Welfare Minister N K Das said in a letter to Union Health and Family Welfare Minister Harsh Vardhan.
Noting that Odisha vaccinates about 2.5 lakh people daily, Das said the state has achieved a negative vaccine wastage of -0.5 per cent which is vaccine savings of 0.5 per cent. This could be possible due to diligent and meticulous management of a valuable vaccine resource, he said.
The minister in the letter said that as of April 7 (10 am), Odisha has a stock of 5.34 lakh doses of Covishield, which will meet requirement of two more days.
'By April 9, there will be stock-out of Covishield vaccine in the entire state. This will adversely impact timely administration of second dose of vaccine as well as delay in vaccination of citizens (45 years and above)," he said.
The Odisha Health minister also drew the attention of Vardhan that this (shortage) matter has been raised repeatedly by the Additional Chief Secretary, Health Department, Government of Odisha with the Union Ministry of Health and Family Welfare.
'Therefore, I would like to draw your kind attention to this matter and request you to take necessary steps for supplying at least 10 days stock which is 25 lakh doses of vaccine to the state immediately for effective vaccination of the targeted population,' the minister said in the letter.
Odisha's COVID-19 tally rose to 3,44,647 on Wednesday as it reported 791 new cases, the highest spike this year.
The COVID-19 death toll climbed to 1,923 as one more person succumbed to the disease in Puri district, an official said.
-- with inputs from PTI