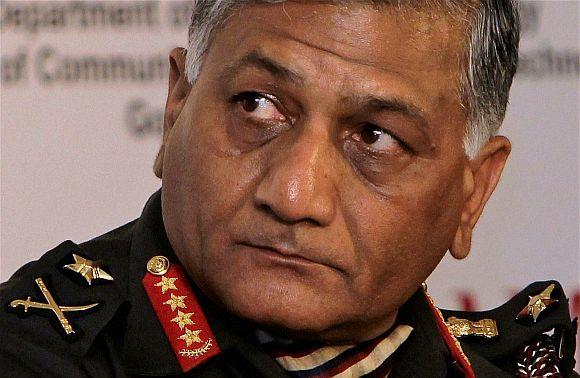 Former Army chief V K Singh will attend the rally organised by Haryana's main opposition party Indian National Lok Dal in Rewari on Thursday, the party's President Om Prakash Chautala has said.
In addition to Gen Singh, Union Minister Farooq Abdullah, Punjab Chief Minister Parkash Singh Badal, Janata Dal-United chief Sharad Yadav, Telugu Desam Party leader Nageswara Rao, grandson of B R Ambedkar Prakash Ambedkar, Colonel (retd) Kirori Mal Bainsla from Rajasthan and former National Minorities Commission Chairman, Tarlochan Singh, will also attend the function, Chautala said while addressing party workers Chandigarh on Tuesday.
The former Haryana chief minister had been on a whirlwind tour of the state during the past fortnight mobilising people for the rally.
The 'Samman Divas rally' is being organised to pay tributes to former Deputy Prime Minister, late Devi Lal, an INLD spokesperson said on Wednesday.
"The party has decided from this year to celebrate Lal's birth anniversary on November 1, the day when Haryana was carved out as a separate state in 1966, instead of his actual birth date as a befitting tribute to the patriarch who played a key role in shaping and development of the State," the spokesperson said.
Gen Singh, who had locked horns with the Centre on the issue of his retirement age, had last month visited Gorakhpur village in Fatehabad district to express solidarity with villagers who were protesting the setting up of a nuclear power plant in the area.
Incidentally, the INLD too has been opposing the proposed plant citing safety concerns.