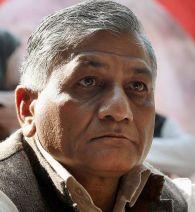 Former Army chief V K Singh who was scheduled to appear before the privilege committee of the Jammu and Kashmir legislative council failed to do so on Thursday.
The committee has now issued a fresh summons to Gen Singh asking him to appear before the committee on January 22, officials said.
The summons has been served through the Haryana state director general of police to the former army chief for his personal appearance before the committee.
A copy of the summons has also been sent to the speaker of the Haryana legislative assembly.
The committee had issued summons to the former army chief to clarify his comments on the funding of state politicians by the army.