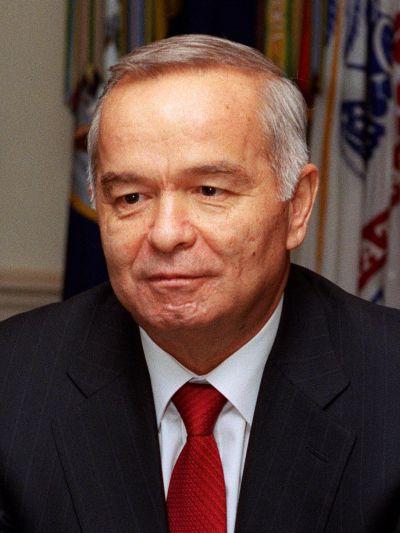 Uzbekistan's President and former Soviet strongman Islam Karimov died on Friday, announced the government, ending over a quarter of a century of his iron fisted rule in the Central Asian nation.
A state TV said, reading an official statement, 'Dear compatriots, it is with huge grief in our hearts that we announce to you the death of our dear president.'
Authorities said Karimov, 78, was pronounced dead at 8.55 pm local time after he suffered a stroke over the weekend and fell into a coma, following days of speculation that authorities were delaying the announcement of his death.
Karimov's body was to be flown to his home city of Samarkand on Saturday and a funeral will be held in the central Uzbek city, the statement said.
From Samarkand airport, the funeral cortege is to set off at 6 am local time, with people able to pay their last respects from 9 am on a city square close to the cemetery where he will be buried, Russian news agencies reported.
Karimov's youngest daughter Lola wrote on Facebook 'he has left us... I am struggling for words, I can't believe it myself'.
As Uzbekistan begins three days of mourning, the country now faces the greatest moment of uncertainty in its post-Soviet history.
There's no clear successor of Karimov in place. Loyalist Prime Minister Shavkat Mirziyoyev is heading the organisation committee for the funeral, suggesting that he could be in line to take over long-term from Karimov.
Under Uzbek law, senate head Nigmatulla Yuldashev should now become acting president until early elections are held.
Lambasted for brutally crushing dissent, Karimov kept a stranglehold on power for over 25 years. The veteran leader played Russia, China and the West off against one other to avoid total isolation as he steered his strategic state out of the collapse of the Soviet Union.
Karimov's authoritarian rule came under fire over accusations of heinous rights abuses, most prominently over bloodshed in the city of Andijan in 2005, but the most serious threats to his reign came from far closer to home.
In a court drama with echoes of Shakespeare, the former Soviet apparatchik -- put at the helm by the then Soviet Leader Mikhail Gorbachev in 1989 -- had his eldest daughter put under house arrest in 2014 during a family feud. She had also compared him to former Soviet leader Joseph Stalin.
Karimov portrayed himself as guarantor of stability and bulwark against radical Islam on the borders of Afghanistan, crushing fundamentalist groups at home.
Russian President Vladimir Putin called Karimov's death 'a great loss for the people of Uzbekistan' in a telegram to interim leader Yuldashev, while Prime Minister Dmitry Medvedev is set to jet in for the funeral.