Hollywood icon Angelina Jolie has slammed President Donald Trump's controversial immigration ban on seven Muslim-majority countries, saying that shutting the door on refugees or discriminating among them will not make America safer.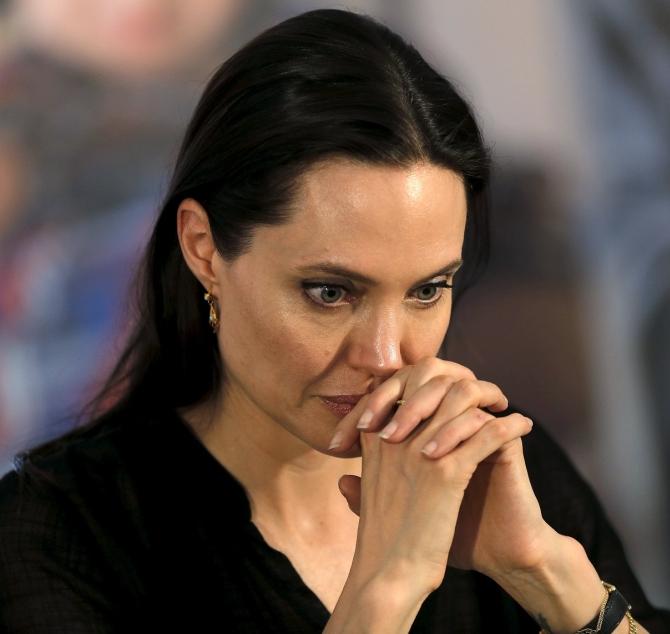 A special envoy for the United Nations High Commissioner of Refugees since 2012, Jolie, in an editorial in the New York Times, said refugee policy should be based on facts not fear as such people are "men, women and children caught in the fury of war" and are a victim of terrorism themselves.
Without naming Trump, Jolie said the new decision has been met with shock by US' friends around the world.
While accepting that there was a need to secure the borders considering the threat from terrorism, Jolie said it should not be done at the cost of vulnerable people.
"Every government must balance the needs of its citizens with its international responsibilities. But our response must be measured and should be based on facts, not fear," said the actress.
Jolie, who raises three biological and three adopted children, said being a mother she wants her country to be safe for them but she also wants the refugee children who qualify for asylum to have a chance "to plead their case to a compassionate America."
Stating that refugees go through the highest level of screening of any category of traveler to the United States, Jolie said the world is going through the worst refugee crisis since World War II.
"If we send a message that it is acceptable to close the door to refugees, or to discriminate among them on the basis of religion, we are playing with fire. We are lighting a fuse that will burn across continents, inviting the very instability we seek to protect ourselves against," she said.
"The lesson of the years we have spent fighting terrorism since September 11 is that every time we depart from our values we worsen the very problem we are trying to contain. We must never allow our values to become the collateral damage of a search for greater security."
Jolie said shutting the door on refugees or discriminating among them is not the American way or makes the country safer.
"Acting out of fear is not our way. Targeting the weakest does not show strength. This is where I would hope any president of our great nation would lead on behalf of all Americans," she said.
Trump last week signed the sweeping executive order to suspend the arrival of refugees and impose tough new controls on travellers from Iraq, Syria, Iran, Libya, Somalia, Sudan and Yemen as part of new measures to "keep radical Islamic terrorists" out of America.
Photograph: Umit Bektas/Reuteras