The Trump administration wants to build a deeper relationship with India, the White House has said, expressing confidence that the two countries will continue to grow their ties.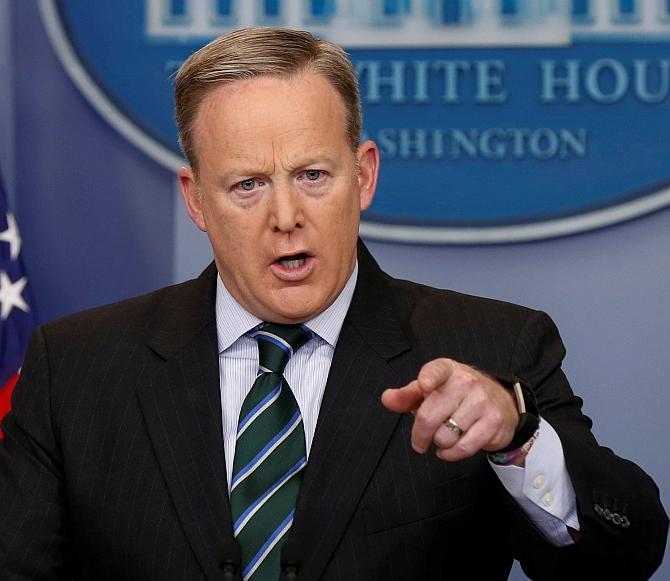 "I think we are, as talked about during the campaign and the transition, establishing a deeper relationship with Prime Minister Modi and US-India businesses," White House Press Secretary Sean Spicer told media persons at his daily news conference.
"And I think as we move forward in terms of our foreign policy, we'll have further updates on that. Trump spoke very clearly and frequently about the relationship that we have and hope to continue to grow with India," Spicer said.
Showing strong resentment over the recent alleged racial attacks in the US, Spicer said the Americans should be outraged and disgusted by the hate crimes, adding they should stand up for the principles that unite them.
"It's something that I think all Americans should be outraged and disgusted by -- and stand up for the principles that unite us, and that's what the President spoke so eloquently about during his joint address, and made it very clear that while certain policies may divide us as individuals, there are certain principles that can unite us," Spicer said in a statement.
Putting light on the recent attacks that have taken place, Spicer said the US government should continue working towards uprooting the problem and engage in law enforcement.
"I think the President -- whether it's the event that happened in Kansas City, other events, the attacks on Jewish community centers that continue to plague us -- we saw another report this morning of some unfortunate activity. I think we've got to continue to call it out, we've got to continue to root it out, we've got to continue to engage law enforcement, whatever is the applicable level of law enforcement depending on the event," Spicer further said.
So far, four people have fallen prey to what is being dubbed as "racial" attacks.
An Indian engineer, Kuchibhotla was earlier on February 22 shot to death in Kansas in an alleged racial attack, after the gunman was heard shouting "get out of my country".