"He's a man of tremendous talent and tremendous experience," said Trump of his new appointment.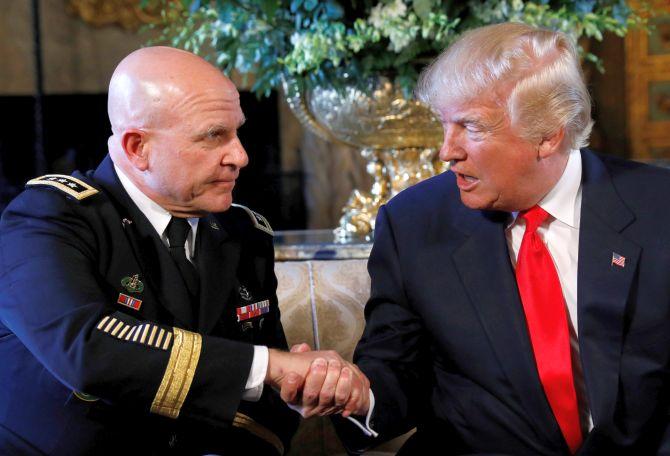 IMAGE: US President Donald Trump shakes hands with his new National Security Adviser Army Lt General HR McMaster after making the announcement at his Mar-a-Lago estate in Palm Beach, Florida. Photograph: Kevin Lamarque/Reuters
United States President Donald Trump has appointed Lt Gen Herbert Raymond McMaster as his new national security adviser following the ouster of Michael Flynn last week.
Making the announcement at his Mar-a-Lago residence in Florida on Monday, Trump described McMaster, currently Director of the ArmyCapabilitiesIntegrationCenter, as "a man of tremendous talent and tremendous experience."
Flynn had been forced out by Trump after revelations that he misled Vice President Mike Pence about discussing sanctions with Russia's ambassador to the US during the presidential transition. Trump had described this as a matter of trust and not of any wrongdoing.
"I just wanted to announce that Gen H R McMaster will become the national security adviser. He's a man of tremendous talent and tremendous experience. I watched and read a lot over the last two days. He is highly respected by everyone in the military and we're very honoured to have him," Trump said.
The acting national security advisor, General Keith Kellogg (retired), will now serve as Trump's national security council chief of staff.
The president also said John Bolton, a former US ambassador to the United Nations, would serve the administration in another capacity.
"I met with many other people. I have tremendous respect for the people I met with. I know John Bolton, we'll be asking him to work with us in a somewhat different capacity. We had some really good meetings with him," he said.
"He had a good number of ideas that I must tell you I agree very much with. So we'll be talking with John Bolton in a different capacity. And we'll be talking to some of the other generals that I've met," Trump said.
In his brief remarks, McMaster said he looks forward to joining the national security team and doing everything he can to advance and protect the interests of the American people.
The White House later told reporters that he has the freedom to bring in his own staff to the National Security Council.
In response to a question, Trump confirmed that Vice President Mike Pence played a role in the selection process.
Top Republican Senator John McCain, who is Chairman of the Senate Armed Services Committee, and a fierce critic of Trump, welcomed the appointment.
"Lt General H R McMaster is an outstanding choice for national security adviser. I have had the honour of knowing him for many years, and he is a man of genuine intellect, character, and ability. He knows how to succeed," he said.
"I give President Trump great credit for this decision, as well as his national security cabinet choices. I could not imagine a better, more capable national security team than the one we have right now," McCain said.
Harry J Kazianis, Director of Defense Studies at the Center for the National Interest, founded by Richard M Nixon and the only WashingtonDC think-tank to host then candidate Donald Trump for a major address on foreign policy, said the president had made an outstanding choice.
"With the sheer amount of big challenges the administration faces around the world -- from North Korea's nuclear weapons and missile programs, a rising Chinese military, an Islamic State that still has the capacity to inflict damage throughout the Middle East and beyond as well as a revanchist Russia, McMaster has vast experience taking on America's enemies on the battlefield. He has proven leadership qualities that will serve him well in his new role," he said.
Kazianis said McMaster was a veteran of the First Gulf War, where he fought in the now famous Battle of 73 Easting, and the Second Gulf War, wherein he again fought with honour.
"As an adviser to General David Petraeus, has seen the horrors of war up-close, providing McMaster a very different perspective when it comes to evaluating risk and making recommendations of war and peace to President Trump than a civilian would," he said.
"McMaster is someone who is widely respected in not just the US military but in defence and national security circles in Washington and around the world. He will provide solid leadership and a steady hand where President Trump needs it most after the departure of General Michael Flynn," Kazianis said.
House Permanent Select Committee on Intelligence Chairman Devin Nunes congratulated McMaster on his appointment.
"With his history of questioning the status quo and infusing fresh thinking and new approaches into military affairs, Lt Gen McMaster will make a fine addition to the Trump Administration's national security team," Nunes said.