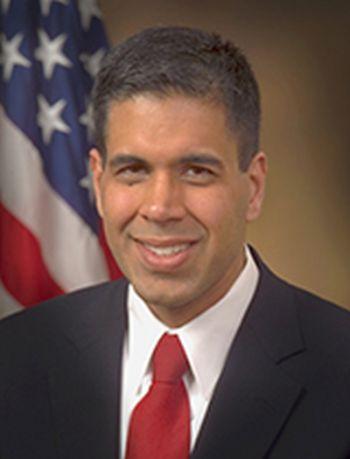 An Indian-American legal luminary has been nominated by United States President Donald Trump to a key judicial position on the powerful US court of appeals.
Amul Thapar, 47, who in 2007 became the first South Asian Article III judge when he was appointed as a US District Judge for the Eastern District of Kentucky, is the first Indian-American to be nominated by Trump for a top judicial post on Monday.
If confirmed by the Senate, Thapar will be part of the powerful US 6th Circuit Court of Appeals, which hears appeals from Kentucky, Tennessee, Ohio and Michigan.
Thapar was among the 20 judges whose names Trump had released during his presidential campaign as shortlisted candidates for his Supreme Court nominees.
Senate Majority Leader Mitch McConnell applauded Trump for announcing his intent to nominate Thapar to serve on the Sixth Circuit Court of Appeals.
'Throughout his already impressive career of public service, Amul has shown an incredible intellect and an unshakable dedication to the law,' McConnell said.
'He has earned the respect of his colleagues, and I know that he will bring to the Sixth Circuit the same wisdom, fairness, and ability that he has shown on the District Court. President Trump made an outstanding choice and I look forward to the Senate's confirmation of Judge Thapar,' the Senate Majority leader said in a statement.
The South Asian Bar Association of North America which is normally critical of Trump, lauded Trump for his intent.
"Judge Thapar is a respected and thoughtful jurist who has long served as role model for the South Asian and greater legal community," said Vichal Kumar, SABA president.
"Despite being among the youngest judges in the federal judiciary, Judge Thapar quickly established a reputation as a top legal scholar among his peers. His nomination furthers SABA's mission of ensuring a judiciary that reflects the diversity of our country and we anticipate that his eminent qualifications will earn him a swift confirmation," Kumar said.
Prior to joining the bench, Thapar, winner of SABA's Pioneer Award, served as the US attorney for the Eastern District of Kentucky from 2006-2007, where he was one of the first American attorneys of South Asian descent.
During that period, Thapar was appointed to the Attorney General's Advisory Committee and chaired the AGAC's Controlled Substances and Asset Forfeiture subcommittee.
He also served on the Terrorism and National Security subcommittee, the Violent Crime subcommittee, and Child Exploitation working group.
Thapar has also worked for the law firms of Williams & Connolly in Washington, DC and Squire, Sanders & Dempsey in Cincinnati, Ohio, and served as an Assistant US Attorney in both the Southern District of Ohio and the District of Columbia.
Between 1994 and 1997, he served as a law clerk to the Honourable S Arthur Spiegel, who sits on the US District Court for the Southern District of Ohio, and the Honourable Nathaniel R Jones, who sat on the US Court of Appeals for the Sixth Circuit.
He earned his undergraduate degree from Boston College and his law degree from the University of California, Berkeley.
Born in Detroit, Michigan in 1969, Thapar was nominated by George W Bush on May 24, 2007 to a seat vacated by Joseph M Hood.
He was confirmed by the Senate on December 13, 2007 and received commission on January 4, 2008.
Thapar served as an adjunct professor at Georgetown University Law Center, and also was an adjunct professor at the University of Cincinnati, College of Law, where he taught Federal Criminal Practice.
While Thapar is a Trump supporter, his father Raj Thapar, who owns a heating and air-conditioning business, is an Obama supporter.