Donald Trump may blame the rain, but there were clearly a lot less people who attended his inauguration on Capitol Hill than had been anticipated.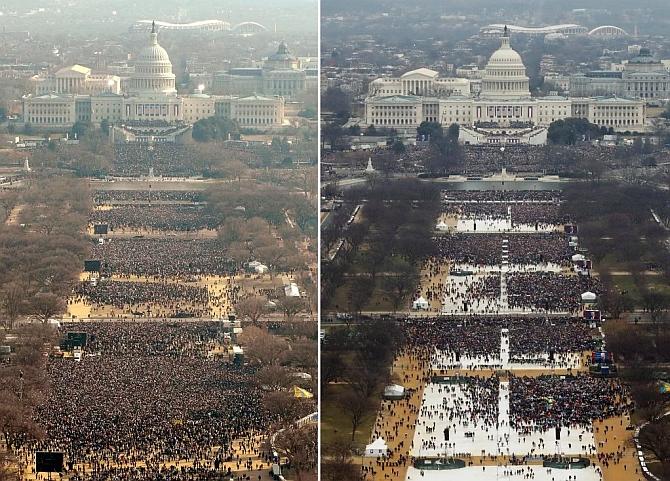 A side-by-side comparison of the crowds at former President Barack Obama and President Donald Trump's respective inaugurations reveals that Trump's crowd isn't as large as he boasted it would be.
Two aerial photographs of the National Mall from the two historic days reveal large patches of white ground exposed during Trump's ceremony, spaces crowds had filled during Obama's 2009 inauguration. The pictures were taken around the same time during the day, Trump's at 11:04 am and Obama's at 11:30 am.
Federal and local agencies estimated 700,000 to 900,000 people would be in Washington, DC for Trump's inauguration on Friday, roughly half the number of people who attended Obama's first presidential inauguration. Obama's second inauguration also drew more people, approximately 1 million.
Photos of the National Mall from Obama's inauguration in January 2009 show a teeming crowd stretching from the West Front of the Capitol all the way to the Washington Monument.
Photos taken from the same position on Friday show large swaths of empty space on the Mall.
Thin crowds and semi-empty bleachers also dotted the inaugural parade route.
Hotels across the District of Columbia reported vacancies, a rarity for an event as large as a presidential inauguration.
And ridership on the Washington's Metro system didn't match that of recent inaugurations.
Image: A composite image shows the inauguration crows for Barack Obama in 2009, left, and Donald Trump in 2017.