In a U-turn, US President Donald Trump on Friday agreed to honour the decades-old 'One China' policy during his first telephonic conversation with his Chinese counterpart Xi Jinping.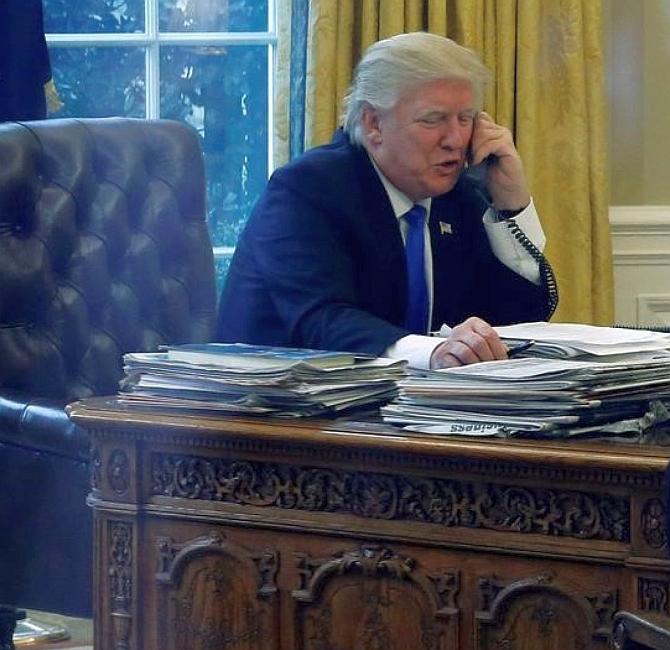 Under the policy, the US recognises and has formal ties with China rather than the island of Taiwan, which China sees as a breakaway province to be reunified with the mainland one day.
"The two leaders discussed numerous topics and President Trump agreed, at the request of President Xi, to honour our 'One China' policy," the White House said after Trump and Xi spoke over phone.
Xi appreciated Trump's affirmation of One China policy, Chinese state media reported.
Representatives of the US and China will engage in discussions and negotiations on various issues of mutual interest, the White House said.
"The phone call between President Trump and President Xi was extremely cordial, and both leaders extended best wishes to the people of each other's countries," it said, adding that they also extended invitations to meet in their respective countries.
Trump and Xi look forward to further talks with very successful outcomes, the White House said of the "lengthy conversation" the two leaders had.
Trump, after his election, had stated that the 'One-China' policy on Taiwan is up for negotiation and that he is not fully committed to it.
China had hit back saying 'One-China' policy which stipulates that Taiwan is part of Chinese mainland is "non-negotiable". China regards Taiwan as a breakaway province and insists all countries having bilateral ties with it to abide by the 'One-China' policy.
Trump has also often accused Beijing of unfair trade practices, currency manipulation and military buildup in the South China Sea.
Earlier in the day, a presidential spokesman said Trump believes that a constructive relationship between China and America is in the fundamental interest of both countries.
"I think it (US-China relationship) is obviously important to us and the President understands that. He has spoken fairly often about China. He understands both the national and economic interests that we have, the desire for our companies to access the Chinese market, but also the national security interests that we have," White House Press Secretary Sean Spicer told reporters at his daily news conference.
Trump, Spicer insisted, wants to have a fruitful and constructive relationship with China.
"And he looks forward to developing that as we go forward," Spicer said.
The phone conversation between the two leaders happened a day after Trump wrote a letter to Xi and on the eve of his scheduled meeting with Japanese Prime Minister Shinzo Abe.
Xi Jinping had sent a congratulatory letter on the day of the President's inauguration.
Trump sent a letter to Xi to wish him and the people of China a happy Lantern Festival.
"The President, in his note to Xi Jinping, stated that he believes that having a constructive relationship with China would be something that would serve the fundamental interests of both of our countries and really the region in the world more widely, and that he does look forward to discussing matters of mutual cooperation, as well as delving into some of the well-known differences in the relationship," a senior administration official told reporters during a conference call.
In Beijing, a Chinese Foreign Ministry spokesman, reacting to Trump's letter, had praised it.
"We highly commend President Trump for expressing festive greetings to President Xi Jinping and the Chinese people," Lu Kang had told journalists, adding "cooperation is the only right choice for the two countries."
During their phone conversation, Trump and Xi also agreed to Xi agreed to cooperate in trade, investment and international affairs, state-run Xinhua news agency reported.
In its editorial appreciating yesterday's letter by Trump to Xi, an editorial in the state-run Global Times said on Friday that the new US President who has made some strong statements against China, including renegotiating 'One China' policy has warmed up to Beijing after taking over office.
"Trump's team made some disparaging remarks on China's core interests when Trump was President-elect. But the situation changed after January 20. Since then, the attitude of the Trump's team has become more restrained," the editorial said.
"The attendance of (Trump's daughter) Ivanka Trump at a Spring Festival reception at the Chinese Embassy in Washington was interpreted as a positive sign. The phone conversation between Chinese State Councilor Yang Jiechi and the US Presidential National Security Affairs Assistant Michael Flynn as well as the closed-door talks between Trump's son-in-law Jared Kushner and Chinese ambassador to the US Cui Tiankai also garnered attention," it said.
"Over the past few weeks, more positive signs have emerged between China and the US, making people re-evaluate the trajectory of the bilateral relationship under Trump," it said.
"The China-US relationship is unique. As the world's largest and second largest economy, the two countries are not allies. They severely lack strategic trust, but have been engaged in unprecedented close economic cooperation," the editorial said.
"The overall landscape of the bilateral relationship reflects the strengths of the two and aligns with people's understanding of contemporary international politics. In Sino-US ties, the US is in a more advantageous position but has shown due respect to China. China has more say in the bilateral relationship compared with Japan and European countries in their relations with the US," it said.
Photograph: Reuters