Angry Americans on Friday staged nationwide protests for a second day against Donald Trump's election victory, with thousands besieging New York and Chicago, as the president-elect accused the media of inciting "professional protesters" against him.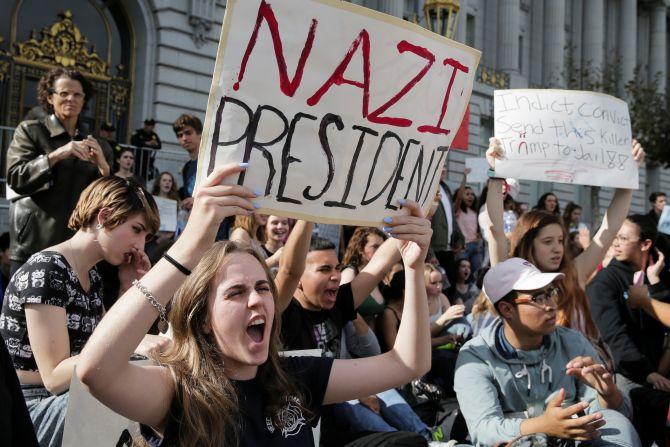 Fresh protests erupted in several United States cities for a second night as coast to coast demonstrations witnessed thousands of people filling the streets, including at the White House and outside Trump's properties.
Reports of protests came in from cities like New York, San Francisco, Colorado, Los Angeles, and Seattle. While most protesters were peaceful, dozens were arrested.
The latest protests were, however, smaller in scale and less intense than those that were witnessed a day earlier.
Some of the protesters had come from distant parts of the US.
At least three officers were wounded, and about 40 fires were set in one California city, the CNN reported.
In his first reaction to the massive protests, Trump accused the media of inciting "professional protesters" against him.
"Just had a very open and successful presidential election. Now professional protesters, incited by the media, are protesting.
"Very unfair!" Trump tweeted after he reached New York following a day of hectic meetings in Washington DC.
During the day, he met outgoing US President Barack Obama, after which he met Speaker of the House of Representative Paul Ryan and other leaders of the US Congress.
On Thursday, people in huge numbers rallied in at least 25 US cities -- including New York and Nashville, Chicago and Cleveland, San Francisco and Seattle -- shouting anti-Trump slogans, burning effigies, and holding candlelight vigils to mourn result of the general election in which Trump secured a stunning victory despite his explosive and divisive rhetoric.
The White House said people have constitutional rights to protest but these protests need to be peaceful.
"I think the first thing the President would say is that we've got a carefully, constitutionally protected right to free speech, and the President believes that that is a right that should be protected.
"It is a right that should be exercised without violence," the White House Press Secretary Josh Earnest said when asked about President Obama's view on this.
"There are people who are disappointed in the outcome. The president's message in the Rose Garden was it's not surprising that people are disappointed in the outcome, but it's important for us to remember, a day or two after the election, that we're Democrats and Republicans, but we're Americans and patriots first," he said.
"That's the message that the president hopes that most people will hear. But are there some people who are going to be disappointed, and are they going to express those views in public. I think we've seen that that's the case. They have constitutional rights to do that, and those rights should be protected. But the president would obviously want them to hear his message as well," Earnest said.
Meanwhile, the Council on American-Islamic-Relations, the nation's largest Muslim civil rights and advocacy organisation, in a statement called on Trump to respect the rights of all Americans and pledged to work with the new president to strengthen the nation.
"Regardless of who won or lost yesterday's election, American Muslims are here to stay. We are not going anywhere, and will not be intimidated or marginalised... American Muslims will also increase outreach to their fellow citizens of other faiths and backgrounds to build bridges of mutual understanding and cooperation," said CAIR National Executive Director Nihad Awad.
"We will hold the new president to the highest standard in defending the rights of all those residing in our nation, as guaranteed by the Constitution," Awad said.
The National Nurses United in a statement called on Trump to follow up on his calls for national unity by reassuring immigrant families that they do not have to fear deportation, and renouncing some who have sed the election outcome as a pretext to threaten minorities or promote hate crimes.
In his victory speech, Trump pledged to "be president for all Americans" and said it was "time for us to come together as one united people".
However, in the hours since the election was called, "millions of Americans, especially immigrant families and other people of color have had reasons for fear that they will face deportation or other attacks on their safety and their rights", said Jean Ross, co-president of the organisation.
IMAGE: Hope Robertson, 17, of Mission High School, holds up a sign in front of City Hall in protest of the election of Republican Donald Trump as President of the United States in San Francisco, California. Photogrpah: Elijah Nouvelage/Reuters