The 30-year-old Democrat ran a spirited race in the 7th Congressional District in New Jersey, which is a Republican bastion.
George Joseph reports from New Jersey.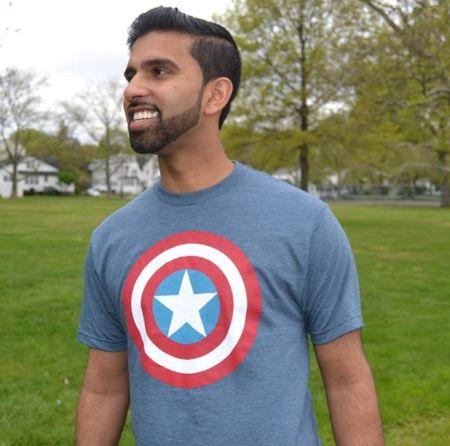 Peter Jacob, a young Democrat in New Jersey, ran a spirited campaign against incumbent Republican Congressman Leonard Lance in the 7th District in New Jersey, but lost the race. The 30-year-old Indian American received 78,341 votes (41 per cent) against Lance's 105,012 (56 per cent) in the Republican bastion.
Jacob, a Progressive who supported Bernie Sanders in the presidential election and was later endorsed by the Senator from Vermont, had told us at the start of his campaign that he was drawn to politics, not because of power latent in it, but owing to a genuine desire to work for the public.
The Kerala-born Jacob believed that Lance, who came in as a moderate conservative in 2008, has drifted further right with each election, reflecting the general mood of the GOP. He had also claimed that dissatisfaction had grown in the district, with people being unhappy about Lance's resolve to block any Supreme Court nominee from Obama, to help repeal the Affordable Care Act, and other laws legislation supported by the Obama administration.
Apart from pointing to "pesky potholes, bad bridges," he had also said, "Lance is not bringing investment into New Jersey" or encouraging green energy in the state.
-- FULL COVERAGE: US ELECTION 2016
Jacob had also addressed the issues of how the real estate market was hit by the high property taxes, and said that, if elected, he would love to partner with state and local governments by getting everyone to pay their fair share of taxes, including the corporations who manage to avoid doing so.
And reflecting his background as a social worker, he had added, "There's too much money in politics. Money has become speech and corporations have become people."
Jacob ran his campaign in the face of racist attacks from right-wing groups, including his house being vandalized with Nazi swastikas.
In the final days of the race, he faced negative advertisements from the Lance campaign. To counter them, Jacob had appealed for funds. He received $140,000 in two days, and his Jacob Peter told Rediff.com, "The money came from ordinary people who sent small amounts and not from corporate donors."
-- With inputs from P Rajendran
Image: Kerala-born Peter Jacob had the endorsement of erstwhile Democratic presidential candidate Bernie Sanders. Photograph Courtesy: Peterjacob2016/Facebook