Jeff Sessions, a close confidant of US President Donald Trump, was on Thursday confirmed to be the next attorney general, after a historically tumultuous process that saw the senator come under fire for his views on race and civil rights.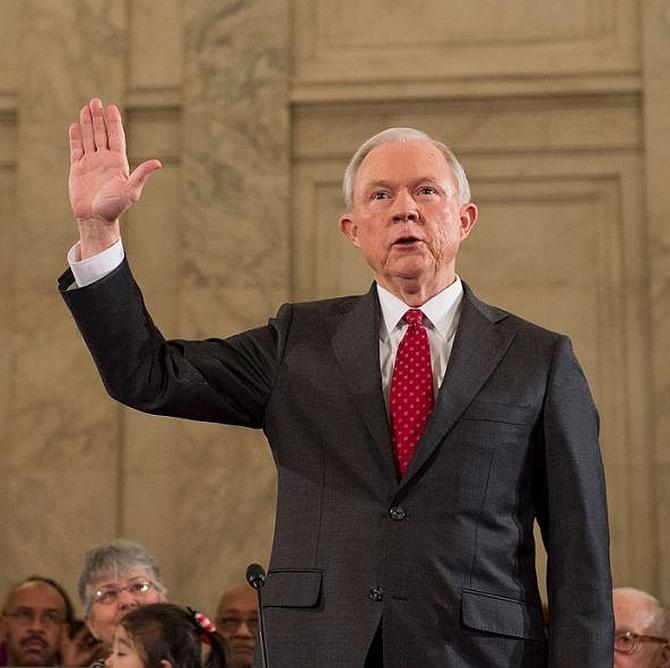 Sessions, who was the Alabama Senator since 1997, was confirmed as the 84th nation's top law enforcement officer by surviving a near-party-line vote by 52 to 47 after days of delays in the Senate voting.
The voting was on partisan lines. Sessions, 70, resigned as the Alabama Senator later in the night. He is expected to be sworn in as the US Attorney General later in the day.
Sessions was one of the first few top Republican Senators to have endorsed Trump in his race to the White House when he was still pitted against his opponents in the GOP primary.
In the past, Sessions has positioned himself as an opponent of H-1B visas, as he believes that this work visa, popular among Indian IT professionals, displaces American workers.
In his farewell speech, soon after his confirmation and before his resignation, Sessions urged his colleagues to respect each other.
"I would say what would be my prayer for this body that in the future maybe the intensity of the last few weeks would die down and maybe somehow we get along better," he said.
Sessions said the US President believes in the rule of law.
One of the first task on his plate is the win the legal battle for the Trump Administration to get the stay lifted on executive order temporarily blocking all refugee arrivals and immigration from seven Muslim-majority countries to the US.
"I want to thank President Donald Trump. He believes in protecting the American people from crime and violence. He believes in a lawful system of immigration that serves the national interest," he said.
US Senator Lindsey Graham expressed his disappointment in the way Sessions was treated by his Democratic colleagues and outside special interest groups. "He is a decent, honourable and highly qualified man who will serve the President and country well as our Attorney General," he said.
"His knowledge and dedication to upholding our Constitution and the rule of law have been evident throughout his many years of public service," said Senator David Perdue.
"Sessions' extensive legal career as US Attorney and state Attorney General, coupled with his experience as a member of the Senate Judiciary Committee, make him a natural fit to lead our nation's Justice Department," he said.
But the Democratic lawmaker were up against Sessions.
Senator Patrick Leahy expressed concern about Sessions' commitment to ongoing civil rights litigation.
"We are disappointed that the Senate chose to turn a blind eye to Jeff Sessions' long record of hostility to civil rights. We intend to be relentless in holding this Justice Department accountable. The attorney general has an obligation and duty to protect the civil rights of all Americans. We will not allow the Justice Department to abandon this important work now," said Kristen Clarke, president and executive director of the Lawyers' Committee for Civil Rights Under Law.
"I asked whether he would maintain the Justice Department's position in certain important cases. He would not commit to maintaining the Department's position, even in voting rights cases where courts have already found that certain voter ID laws are discriminatory," Leahy said.
"How will this nominee handle an investigation and prosecution into an unprecedented and major foreign intrusion into the election of the president of the United States? Can he be independent of the White House? I do not believe he can," said Senator Dianne Feinstein, the Democratic lawmaker from California.
"Sessions really has to reorient the Justice Department to actually advance the interest of the American people and the rule of law, as opposed to subverting it. And he has to depoliticise the Justice Department, so the American people can have faith in the fair administration of justice again," said Judicial Watch president Tom Fitton.
Penny Nance, CEO and president, of Concerned Women for America, congratulations Sessions on his confirmation.
"The President picked the best person for the job, and I am pleased to see the Senate confirm him," she said.
"Attorney General Sessions has nearly 40 years of experience defending justice, civil rights, and the rule of law during his service as a US attorney, the Alabama Attorney General, and a US Senator," she said.
"Americans deserve an Attorney General who will enforce the rule of law regardless of their political or personal opinions, and that is exactly what newly confirmed Attorney General Sessions has promised," Nance said.
The Republican National Committee chairwoman Ronna McDaniel said that that Democrats would try to skew Sessions' strong civil rights record and consistent adherence to rule of law in a partisan effort to block their colleague's nomination shows their only commitment is to blindly obstructing this administration.
"This type of political posturing by Senate Democrats flies in the face of their duty to the American people. His long and lauded career proves Sen. Sessions is exactly the type of leader we need at the Department of Justice, and I am glad he will finally be able to take his place at the helm," she said.
"Senator Sessions has had a long history of service to the country and The State of Alabama and dedicated his life to public service. Lost in the midst of this contentious confirmation process is that he loves his country and is a brilliant legal mind," said Alabama-based eminent Indian-American lawyer Jagdesh Kriplani.
Photograph: Reuters