America stands united in condemning hate and evil in all its forms, US President Donald Trump said on Wednesday as he broke his silence on the fatal Kansas shooting in which an Indian techie was killed.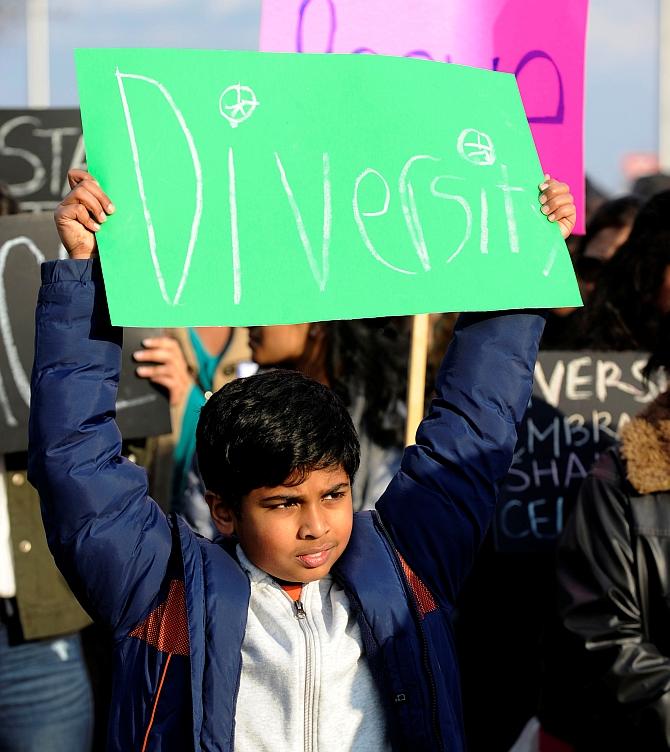 "Recent threats targeting Jewish Community Centers and vandalism of Jewish cemeteries, as well as last week's shooting in Kansas City, remind us that while we may be a nation divided on policies, we are a country that stands united in condemning hate and evil in all its forms," Trump said in his address to the joint session of US Congress.
By mentioning Kansas, Trump in his maiden address to the US Congress, heeded to the call being made by a host of Indian-American organisations and lawmakers to publicly condemn the fatal Kansas shooting which is being investigated by the Federal Bureau of Investigation (FBI) as a hate crime.
"I've been clear that the President must use this amazing platform to condemn this hateful act in no uncertain terms and send a powerful message that no American should be fearful in their own community.
"Diverse political and religious views are what make our country great, and I look forward to him utilising this opportunity tonight," Republican Congressman from Kansas Kevin Yoder had urged Trump earlier.
"...I've been in contact with the White House regarding the senseless tragedy last week in Olathe that claimed the life of Srinivas Kuchibhotla and injured Alok Madasani and Ian Grill," Yoder said.
Earlier in the day, the White House said that the US President was keeping "in his thoughts" the family of Kuchibhotla.
"As more facts come to light, and it begins to look like this was an act of racially-motivated hatred, we want to reiterate that the President condemns these and any other racially or religiously motivated attacks in the strongest terms," White House Deputy Press Secretary Sarah Sanders told reporters during an off-camera news conference.
"They have no place in our country, and we will continue to make that clear," Sanders said as the White House condemned the killing.
"The President is keeping the family of the victim, who was senselessly, killed in his thoughts, and we're praying for the full and speedy recovery of those who were wounded," Sanders said.
The Federal Bureau of Investigation on Wednesday said that the triple shooting at the Kansas bar was being investigated as a hate crime.
The FBI, along with the US Attorney's Office and the Department of Justice's civil rights division, is working with the Olathe Police Department in investigating the shooting.
Kuchibhotla, 32, was killed and Madasani, another Indian of the same age, was injured in the shooting by navy veteran Adam Purinton, who yelled "terrorist" and "get out of my country" before opening fire on them.
A 24-year-old American named Ian Grillot who tried to defend the Indians also received injuries in the firing that took place last Wednesday.
Purinton, 51, apparently mistook the Indians for immigrants from the Middle East.
The Hindu American Foundation also urged Trump to speak on the issue.
"It is our hope President Trump uses the opportunity he has when speaking to the special joint session of Congress later today to address the rising levels of hate violence in our nation," Jay Kansara of HAF said.
Image: Rishi Shetty, 10, holds a sign as he marches before a vigil for Srinivas Kuchibhotla, an Indian engineer who was shot and killed, at a conference center in Olathe, Kansas, US. Photograph: Dave Kaup/Reuters