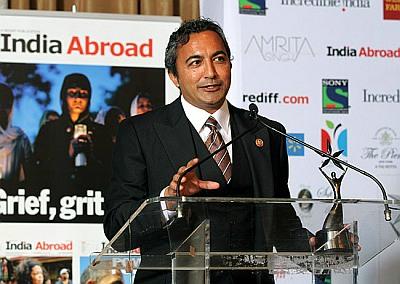 Ami Bera, the only Indian-American in the current Congress, has increased his lead over his Republican rival by nearly 5,000 votes, increasing the prospect of him being elected for the third time.
Bera now leads Scott Jones by over 2 per cent -- 119,448 votes to 114,646 -- according to Sacramento County Registrar of Voters.
The third-ever Indian-American to be elected to the House of Representatives, Bera if re-elected would be joined by three other Indian-Americans -- Ro Khanna from California, Raja Krishnamoorthi from Illinois and Pramila Jayapal from Washington State -- in the lower chambers of the United States Congress.
Excluding over-votes and undervotes, 53.82 per cent of the ballots in this latest update went for Bera compared to just 4 .18 per cent for Jones.
"As our lead continues to grow, we're in the strongest position we've ever been in," Bera said.
"The reason these late ballots are coming in our favour is because of the incredible grassroots effort by our volunteers to get out the vote. The most important thing is for the Registrar of Voters and her hard-working team to continue to do their jobs and count every vote," he said.
In 2012, Bera led Republican Dan Lungren by 184 votes the morning after election day, and his lead eventually grew to 9,191 votes.
In 2014, Bera was down by more than 3,000 votes on election night, and he came back to win by 1,455 votes.
Dalip Singh Saund was the first Indian-American elected to the US Congress. He represented the 29th Congressional District of California for three terms from January 3, 1957 to January 3, 1963.
If re-elected, Bera would equal Saund's record for being elected to the House of Representatives for three terms.