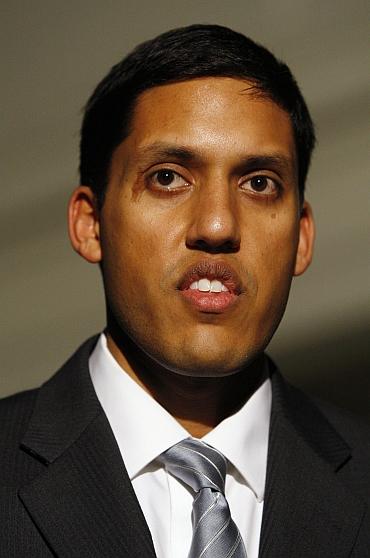 United States Agency for International Development Administrator Rajiv Shah, who is the highest ranking Indian-American official in the Obama administration, has received the prestigious Pravasi Bharatiya Samman.
"I am deeply honoured to receive this award from the president and the Government of India," Shah said after receiving the award from Indian Ambassador to the US Meera Shankar at a function held at her residence in Washington on Thursday.
"I am really proud to be a member of the Indian American community. Indian Americans have contributed to all walks of life in the United States and have a deep and passionate commitment to service and serving the people in India where our families came from," Shah said. "This is a very special honor," he said.
Shah, who was in India last November with US President Barack Obama during his historic trip to Mumbai and New Delhi, said he will be back in India very soon. He said the aid agency has launched a series of new partnership that Obama and Prime Minister Dr Manmohan Singh announced during the November visit.
"That our real peer to peer technical and scientific partnerships between the governments and the institutes and the private sector in India and their counterpart in the United States. We did that in open government. We have done that in health and human welfare and we have done that in agriculture," he said.
"In all areas we work with Indian institutions as peers, partners that are developing new technologies and are really trying to bring solutions both to people in India and to people around the world. We think that is the right way to think about our partnership," Shah said.

Image: USAID Administrator Rajiv Shah | Photograph: Jason Reed/Reuters