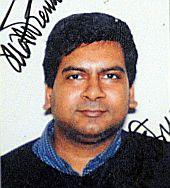 An Indian youth was killed in New York when a deranged woman pushed him from the railway platform in front of an incoming train

This is the second such incident this month. 
Sunando Sen, a native of Kolkata, was waiting at the elevated 40th Street station of the number 7 line in Sunnyside in Queens, New York at 8 pm on December 27.


A woman had been pacing the platform, mumbling to herself, witnesses told the police, adding that she then sat on a wooden bench.

'When the train pulled into the station, the suspect rose from the bench and pushed the man, who was standing with his back to her, onto the tracks into the path of the train,' the police said in a statement.

'The victim appeared not to notice her.'


Sen had little time to react and bystanders had no time to go to his aid, New York Police Department's chief spokesman Paul J Browne told the media.


Police could not identify Sen till Friday morning as he was not carrying any identification on him.


After pushing Sen, the woman left the place hurriedly, the police said.

Though some people followed her, she escaped.

Her instant escape has turned her insanity status into a point of discussion.


Police released a video of the woman fleeing the station and running along Queens Boulevard.

She was described by the police as Hispanic, 5 feet 5 inches tall.


Sen's roommate, AR Suman, a cab driver, termed him as a quiet fellow who worked seven days a week, according to the New York Post.

An unmarried Sen had recently opened a business.

'I think she's crazy. I can't believe this right now,' Suman said.


Another roommate, Mohammed Khan, who is also a taxi driver, told the Post: 'My heart is broken because this guy was so nice and quiet.'


'This lady, she just pushed the guy on the tracks. Then she ran away. I was screaming and closing my eyes,' Tenzing Tegeng, 21, a witness of the incident told the Post.

'I knew he was gonna get hit by the train. That's why I closed my eyes. I didn't want to see it. I could see him, and I could see a train coming. And I couldn't do anything. I was so helpless. He was trying to get up. It was so fast,' she said.


'He looked shocked. He didn't scream,' Tegeng said.


On December 3, Naeem Davis, 30, allegedly shoved another Queens resident Ki Suk Han, 58, into the path of a train at the 49th Street station in Manhattan. Davis is being held on murder charges.
Mayor Michael R Bloomberg said such attacks were exceedingly rare, but he understood how statistics did not diminish the tragedy for the families of the victims.


'To say it is only two in a long period of time doesn't help either person,' Bloomberg said during his weekly radio interview on Friday morning. 'I don't know what happened here.'
In 1999, two very similar attacks -- with mentally ill people pushing unsuspecting victims into the path of oncoming subway trains, one fatally -- led to a legislation giving families the right to demand court-ordered outpatient psychiatric treatment for their relatives.