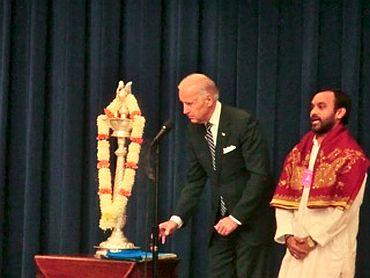 Just one week after United States President Barack Obama's convincing re-election, his faithful Vice President Joseph Biden led the White House celebration of Diwali, reflecting on the significance of festival of lights, and also acknowledging the presence of Tulsi Gabbard, the first Hindu American elected to the US Congress, and also Ambassador Nirupama Rao, who like Gabbard, seemed to have that gravitational pull in terms of the guests wanting to pose for pictures with them.
Also present at the celebration that was closed to the press, were Dr Ami Bera, on the brink of becoming the first Indian American physician elected to the US Congress from the 7th District in California, and Kumar Barve, the majority leader in the Maryland House of Delegates, and the most senior Indian American legislator who was elected to the State Assembly nearly two decades ago.
The nearly two-hour celebration, held on November 13 at the Old Executive Office Building -- which lies adjacent to the White House and houses the administrative offices of the White House -- after which the guests moved to the Indian Treaty Room for the reception, was attended by a select cross-section of about 200 members of the Indian American community from across the country, senior Indian American staffers in the administration like Dr Rajiv Shah, the administrator of the US Agency for International Development, and also erstwhile officials, including Aneesh Chopra, the first chief technology officer in the White House and now making a run for lieutenant governor of Virginia, several US lawmakers and one of the priests from the Sri Siva Vishnu Temple in Lanham, Maryland, Ramesh Babu, who recited a shloka and assisted Biden in the lighting of the diya and then wrapped the ceremonial shawl on the vice president.
After greeting the guests with a Happy Diwali and Saal Mubarak, Biden began with a quip that had the audience in peals of laughter as he said Diwali was all about light over darkness, "and that's what we are all about -- trying to shed some light."
But then getting serious, he said, "It's a very special time for all of us here today and a time which means a great deal to me personally, and it means a lot to see so many good friends as I look out on this audience."
Biden then greeted Rao and also the deputy chief of mission at the embassy in Washington, Ambassador Arun Kumar Singh, and said he had joked with Singh earlier that "if I had his hair, I could have been important."
And, then to sustained applause and raucous whoops, Biden recognised Gabbard, who stood up and greeted the guests with a namaste.
Biden said, "There is a distinction that you come to the Congress as the first Hindu to be elected to the legislature and I am looking forward to working with you," and then reverting to his humorous side, quipped, "As (Congressman) Rush Holt (who was among half-a-dozen lawmakers present) can tell you, that could be a blessing or a curse."
He then reiterated that even though "it's a strange thing to say to this audience that Diwali is the festival of lights and that on this day, we celebrate light over darkness, and equally is important, compassion over hatred and there's such an overwhelming need to have in our world today."
Biden said, "Every year, Diwali reminds us of the fundamental human bonds that unite us, which are much more powerful than those things that divide us. Right now, people of four major faiths are celebrating Diwali -- millions of Hindus, Jains, Sikhs and Buddhists in India and here in America are lighting lamps in their homes -- and are reflecting on a year gone by and are trying as we all are here for a good year to come."
"But even as we celebrate here today, we also remember the work that is still ahead as we strive together to build a better world," he said, and exhorted everyone "to commit ourselves to bring light to any place that is still facing darkness. And, as we all know, there are tens of millions of people that are still facing darkness around the world."
Biden, then referring to the horrific massacre of Sikh worshippers in the Wisconsin gurdwara on August 5, said, "Earlier this year, we faced that stark reminder of evil that still exists when a gunman walked into a holy place in Oak Creek in Wisconsin and opened fire. It was another shock to the system."
"But as my mother would say -- she always said -- 'Joe we have something terrible, and now good will happen, if you fight these evil forces, the fact is that it did in a way bring various communities together that I don't know that one anticipated would happen and the way in which it would happen."
Biden asserted, "We saw the resilience of a community that refused to consider itself as victims and instead they drew strength from their faith and people across this country of all faiths offered compassion and their support."
"We saw that compassion in the kindness of neighbours and the heroic actions of the first responders on that tragic day," he said.
Earlier, in his Diwali message, President Obama had also referred to the Wisconsin gurdwara tragedy, recalling that "earlier, this year, we were reminded of the evil that exists in the world when a gunman walked into the Sikh gurdwara in Oak Creek, Wisconsin and opened fire. (But) In the wake of that horrible tragedy, we saw the resilience of a community that drew strength from their faith and a sense of solidarity with their neighbours, Sikh and non-Sikh alike."
"We also saw compassion and love, in the heroic actions of the first responders and the outpouring of support from people across the country. Out of a day of sadness, we were reminded that the beauty of America remains our diversity, and our right to religious freedom," he said.
Biden in his remarks observed, "Folks, one thing that Diwali reminds us of is that there is a light within all of us -- it's a light of knowledge and compassion, a light that empowers us to do good. To, as Abraham Lincoln said, respond to our better angels."
"And that light that we have to keep, in each of our hearts and we have to spread that faith. So, as I have the great privilege of lighting and illuminating this lamp, I wish you all peace and prosperity and the promise of a new and happy new year."
Biden declared, "May Diwali illuminate your dreams and fresh hopes for all of us and may the light guide us safely home. We have much, much work to do, but I can think of no community I'd rather embark on that journey with than all of you assembled here today."
Barve told rediff.com that "it was such a great honour and pleasure to be at the White House for this particular Diwali, especially since the first Hindu member of Congress was present."
Shalini 'Shelly' Kapoor Collins, founder and chief executive officer, Enscient Corporation, who served on the platform committee at the Democratic National Committee, and raised millions of dollars for Obama's re-election, said, "It was truly a lovely event with senior White House administration personnel explaining Diwali, and talking about the White House's Faith Engagement, a program which was not in place until our president took office."
She told rediff.com, "President Obama's vision of inclusion and respect for all was truly reflected in the Diwali program. It was the perfect coming together of both of my worlds -- Indian and American--and I felt incredibly proud to support this president, for were it not for his efforts, this event would not take place."
Collins said, "I personally was honoured to be included in this event where folks were asking for invitations but only a limited number were distributed. I was fortunate enough to take my mom and dad to the event and flew in from San Francisco. Others flew in from Los Angeles and Chicago to be part of this auspicious kickoff to the new year."
Also present was Arunachala 'Raj' Nagarajan, who came to the US from India by boat on a 22-day journey in September 1962, and earlier in the day to celebrate his 50th anniversary in the US and for his significant contributions to the social fabric of the US through Indian culture and his professional career at IBM, was honoured and felicitated by Congressman Lamar Smith of Texas, who created a certificate acknowledging his contributions and the flag flown over the US Capitol on September 9, 2012, was presented to him.
Nagarajan attended his wife, Janaki, son Kamesh and daughter-in-law Dr Ami Shah, and was also greeted and congratulated by Biden.
Also present were Obama's old college roommate and the US Ambassador to Belize, Vinai Thummalapally, Indian American officials at the White House and Department of Labour Nicholas Rathod and Parag Mehta, former principal deputy solicitor general Neal Katyal, Kiran Ahuja, executive director of the White House Initiative for Asian American and Pacific Islanders, ex-Kansas legislator Rajiv Goyle, air force officer Ravi Chaudhary, Gautam Raghavan, associate director, White House Office of Public Engagement, and Democratic activist Reshma Saujani.
There were also speeches about Diwali and community service from Ahuja, Raghavan, Joshua DeBois, Director of the White House Office of Faith Based and Neighborhood Partnerships, and the only Hindu on its advisory council, Anju Bhargave, and entertainment by a fusion and playing three pieces of Carnatic music.
In her remarks, Bhargave, the founder of Hindu American Seva Charities, said, "In this changing American landscape, we have seen a paradigm shift of inclusion occurring. The faith glass ceiling has cracked in America and is resounding around the globe. The doors for the people of eastern traditions, not only the Hindus but the entire the Dharmic Americans have opened. And we have demonstrated how we strengthen this country we love and call home."
She said, "During the last four years together with the White House we have laid a strategic road map to bring the values of transformative seva, of social justice and karmic empathy to the forefront and connected the community with the federal agencies. We have succeeded in creating a national Dharmic voice where there was none."
Bhargave said, "We are identifying ways to reduce poverty across the country and spur economic development. We appointed our first Hindu American chaplain and honored the Dharmic military. Together we are promoting the values and benefits of yoga, nutrition and Ayurveda."
In November 2009, President Obama created history by becoming the first US President to light a diya and host several Indian Americans at the Diwali celebration in the White House East Room.
The tradition of the White House hosting an annual Diwali celebration was started in the final year of the George W Bush administration and continued throughout the four years of his second term. But President Bush never attended any of the events nor did Vice President Richard Cheney, and it was always a senior aide who did the honors with the first Diwali the White House hosted being graced by Bush's chief political adviser Karl Rove. None of the Diwali celebrations the Bush White House hosted were held in the White House proper, but were always in the Old Executive Office Building.
Image: US Vice President Biden lights a diya as priest Ramesh Babu recites shlokas during Diwali celebrations in White House
Photograph: Kamesh Nagarajan