Republican presidential nominee Donald Trump is unelectable and would make the country less safe, US Vice President Joe Biden said as he launched an unprecedented scathing attack to prevent the real estate billionaire to enter the White House next January.
Similar views were expressed at the Democratic Presidential Convention in Philadelphia by US Senator Tim Kaine, declared the Democratic vice presidential candidate earlier in the day, who urged his countrymen they "better not" vote for Trump whose 'believe me' rhetoric promises great things without ever explaining how.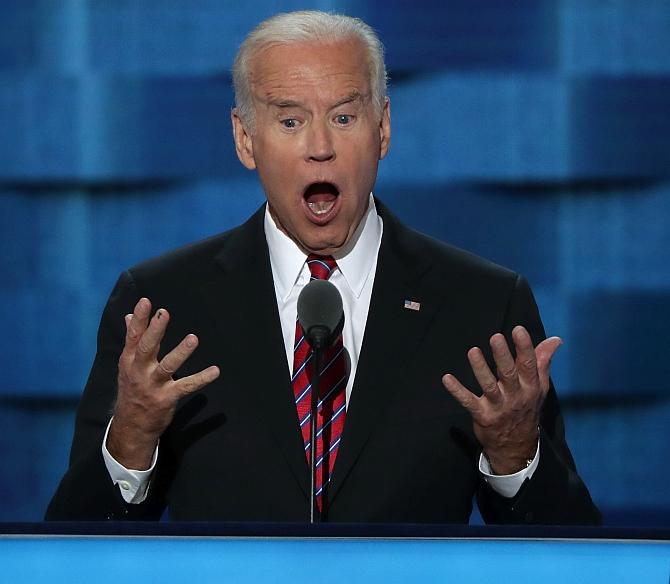 US Vice President Joe Biden delivers remarks on the third day of the Democratic National Convention at the Wells Fargo Center, July 27, 2016 in Philadelphia. Photograph: Alex Wong/Getty Images
"The times are too uncertain, to elect Donald Trump as President of the United States, now let me finish. No major party, no major party nominee in the history of this nation has ever known less has been less prepared to deal with our national security," Biden told an electrifying audience at the Democratic National Convention.
Making a strong pitch for Hillary Clinton, the Democratic presidential nominee, Biden said the US can not elect a man who exploits fears of IS and other terrorists.
"Who has no plan whatsoever to make us safer. A man who embraces the tactics of our enemies, torture, religious intolerance, you all know. All the Republicans know, that's not who we are. It betrays our values. It alienates those who we need in the fight against ISIS," Biden said.
"Donald Trump, with all his rhetoric, would literally make us less safe. We cannot elect a man, who belittles are closest allies, why embracing dictators like Vladimir Putin. No, I mean that," he said.
"A man who seeks to sow division in America for his own gain, and disorder around the world. A man who confuses bluster with strength. We simply cannot let that happen as Americans, period," Biden said amid applause from thousands of Democratic party delegates, leaders and supporters, which was being viewed nationally by millions.
Biden said country should really think about Trump before going to polls in November.
"His cynicism is unbounded. His lack of empathy and compassion can be summed up in a phrase that I suspect he's most proud of having made famous, you're fired," he said.
"But I know why we're strong. I know why we have held together. I know why, we are united. It's because there's always been a growing middle class. This guy doesn't have a clue about the middle class, not a clue," he said.
"Folks, let me tell you what I literally tell every world leader I've met with and I've met them all. It's never, never, never been a good bet to bet against America," he said.
"We have the finest fighting force in the world. Not only, do we have the largest economy in the world, we have the strongest economy in the world. We have the most productive workers in the world. And given a fair shot, given a fair chance, Americans have never, ever, ever, ever, let their country down. Never," he asserted.
He said the US had candidates before attempted to get elected to appealing to the fears, but they never succeeded.
"Because we do not scare easily. We never bow, we never bend, we never break when confronted with crisis. No, we endure, we overcome and we always, always, always move forward," he said.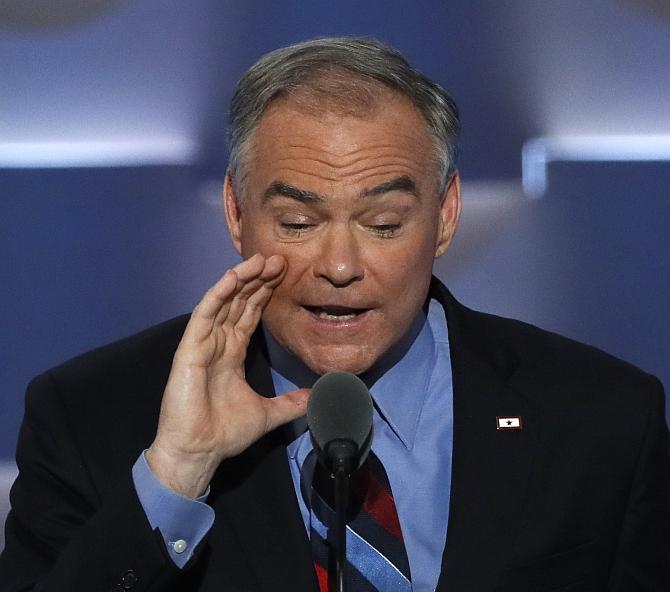 Democratic vice presidential nominee Senator Tim Kaine speaks on the third night at the Democratic National Convention in Philadelphia. Photograph: Mike Segar/Getty Images
Tim Kaine, the 58-year-old senator from the battleground state of Virginia, mocked the 70-year-old reality TV star's often cited remarks "believe me", amid applause from the audience.
"The guy promises a lot. But you might have noticed, he has a habit of saying the same two words right after he makes his biggest promises. You guys know the words I mean? 'Believe me. It's gonna be great – believe me!'" Kaine said.
"He never tells you how he is going to do any of the things he says he is going to do. He just says, "believe me". So here is the question.
"Do you really believe him? Donald Trump's whole career says you better not," he added.
Kaine, who has been a strong advocate of India US relationship, said it is Democratic presidential nominee Hillary Clinton who is ready to take over as the next US president.
"Now Hillary is ready. Ready to fight, ready to win, ready to lead," Kaine said amid cheers and applause from thousands of party delegates, leaders and supporters.
Kaine lashed out at Trump for his policy rhetoric.
"Any party that would nominate Donald Trump for president has moved too far away from his party of Lincoln.
"And I'll tell you, if any of you are looking for that party of Lincoln, we have got a home for you right here in the Democratic Party," he said amid applause.
Trump has a passion, "it's himself", Kaine said.
"With Hillary, it is not just words, it's accomplishments. She delivers. As senator, after 9/11 I got my New Yorkers right here and my Virginians right here. She battled -- she battled congressional Republicans to care for the first responders who went in to the Towers, who went in to the Pentagon and saved the victims of those terrorist attacks.
"As secretary of state, she implemented tough sanctions against Iran to pave the way for a diplomatic breakthrough to curtail a nuclear weapons programme. And she wasn't afraid, she wasn't afraid.
"She was not afraid to stand up against thugs and dictators, and as a key part of the Obama national security team, they decided to go to the ends of the earth to wipe out (Al Qaeda chief) Osama bin Laden," he said.