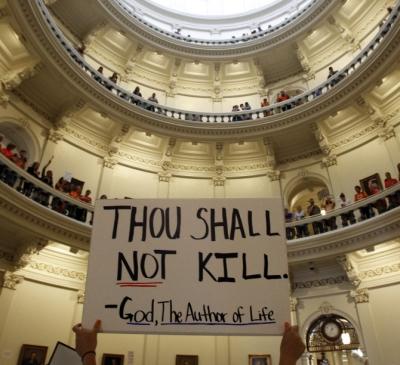 A divided United States Supreme Court has refused to block the implementation of a controversial law limiting abortions in Texas that will force a third of clinics in America's second-largest state to stop performing the procedure.
The court voted 5-4 in favour of a provision requiring doctors performing abortions to have admitting privileges at a nearby hospital.
Abortion rights groups had challenged the law passed in July by the Republican-led Texas Legislature.
Texas officials have defended the law in lower federal courts, with Planned Parenthood and other opponents winning an initial victory that was overturned days later by a US Court of Appeals.
In the ruling, "The majority said that the challengers had not met the requirement for setting aside a federal appeals court order permitting the law to take effect".
Critics of the Texas law have said it imposes a burden both on physicians who perform abortions and on their patients, with its requirement that the doctors have admitting privileges at a hospital within 30 miles (48.28 km) of their clinic.
That court is expected to hear arguments in January, and the law will remain in effect at least until then.
Abortion rights groups and clinics said the law served no medical purpose and was forcing a third of the state's 36 abortion clinics to stop performing the procedure, preventing some 20,000 women a year from access to safe abortions.
State officials told the court that the law, which requires that doctors have hospital admitting privileges within 30 miles of where they perform abortions, protects public health by "fostering a woman's ability to seek consultation and treatment for complications directly from her physician."
The officials added that the impact of the law was modest, saying that more than 90 per cent of women seeking abortions in the state will still live within 100 miles of an abortion clinic.
The law had been temporarily stalled when Wendy Davis, a Democratic state senator, mounted an 11-hour filibuster in the Republican-controlled Legislature.
Image: An anti-abortion protester holds a placard at the State Capitol in Austin, Texas ' Photograph: Mike Stone/Reuters