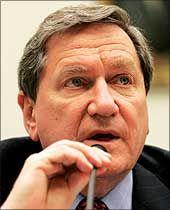 Richard Holbrooke, United States special envoy for Afghanistan and Pakistan, has died after undergoing surgery to repair a torn aorta.
US President Barack Obama in his rare address to a holiday reception hosted for the Washington Diplomatic Corps by Secretary of State Hillary Clinton said Holbrooke was simply one of the giants of American diplomacy.
"I know that everyone here joins me when I say that America is more secure -- and the world is a safer place -- because of the work of Ambassador Richard Holbrooke," Obama said in his address to the diplomatic corps at the Foggy Bottom headquarters of the State Department on Monday; which was also the office of Holbrooke since January 2009; when he was appointed as the Special US Representative for Afghanistan and Pakistan.
"Richard Holbrooke has been serving this nation with distinction for nearly 50 years, from a young foreign service officer in Vietnam to the architect of the accords that ended the slaughter in the Balkans, to advancing our regional efforts as our Special Representative to Afghanistan and Pakistan, and countless crises and hot spots in between. He is simply one of the giants of American foreign policy," Obama said.
"As anyone who has ever worked with him knows - or had the clear disadvantage of negotiating across the table from him - Richard is relentless. He never stops. He never quits. Because hes always believed that if we stay focused, if we act on our mutual interests, that progress is possible. Wars can end. Peace can be forged," Obama said just before Holbrooke's death.
Secretary of State Hillary Clinton, said Holbrooke is a fiercer friend and a beloved mentor and an invaluable counselor. "He has been a friend of mine for many years and I am deeply grateful for his presence and support. When I came to the State Department, I was delighted to be able to bring Richard in and give him one of the most difficult challenges that any diplomat can face," she said.
"He immediately put together an absolutely world class staff. It represents what we believe should be the organisational model for the future people not only from throughout our own government, but even representatives from other governments all working together," she said.
"We know that with Richard, loyalty runs deep and it runs both ways. So tonight, our thoughts and prayers are with Ambassador Holbrooke, his wife Kati, their family, who are here with us as well," Clinton said.
Richard Holbrooke has been a giant of the diplomatic corps for almost 50 years, Clinton said adding that he is practically synonymous with American foreign policy of that time period.
Holbrooke underwent a critical surgery on Saturday.
Image: US special representative for Afghanistan and Pakistan Richard Holbrooke