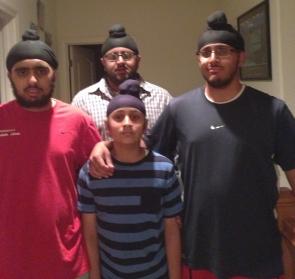 Four young members of the Sikh community in the United States were in for a rude shock when they went for a go kart ride in Livermore, California.
They were asked to remove their patkas or turbans, an article of faith in the Sikh religion.
On July 28, brothers Gurpreet Singh,16, Diljit Singh, 15, and Jaskirat Singh, 11 and their cousin Arminder Singh, 26, went to Boomers, a family entertainment centre, to take a ride on the go-karts.
But they were not allowed to enter the arena because an employee of the centre told the brothers they would have to remove their turbans first.
"I have some bad news for you, that thing on your head is not allowed," the employee reportedly said.
"This is highly discriminatory," Manmeet Singh, staff attorney of the International Civil and Human Rights Advocacy, United Sikhs told rediff.com.
He added, "It is absolutely racial. You tell me what possibly could be the reason to stop them."
He said the notices posted at the location mentioned that long hair needs to secured and tightly tied, and nowhere on the website had it been mentioned that religious headwear or patka was banned.
"So they were targeted simply on the basis of their looks, their appearance," stated Singh, who is legally representing the four brothers.
He said, "Even if we choose to discuss the patka, turban or hijab, by any stretch of the imagination, the headgear cannot be a safety hazard."
Singh said they have contacted the management of the centre and have also sent a evidence preservation letter to their legal department.
Michele Wischmeyer, vice president of marketing and sales, Palace Entertainment, the parent company of Boomers, told rediff.com, "This is not racial, this is all about the safety of our guests."
She said, "This is a matter of safety, it doesn't matter who you are or what your religion is. It's a matter of safety."
She added, "We put one rule down for everybody. The patka is very tight fitting, I agree, but what if the wind gets in it and makes it fly and it gets caught in the machine? So we have one rule, no hats, no headwear of any kind."
Wischmeyer said she has received nearly 400 emails over the incident till now.
Meanwhile, leaders of the Sikh community are upset with the incident.
"Despite education on the significance of the turban, the family was turned away and not allowed to go kart," said Satnam Singh Chahal, executive director of the North American Punjabi Association, a non-profit organisation based in California.
"The concept of Sikhism includes universal acceptance of all humanity, belief in one God and the equality of all persons irrespective of their caste, color, gender, nationality and religion," he said.
Chahal said the NAPA will soon schedule a meeting with the California governor to avoid such incidents in the future.