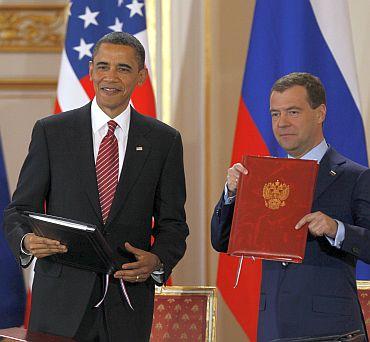 US President Barack Obama and his Russian counterpart Dmitry Medvedev on Thursday signed a landmark nuclear arms treaty in Prague, Czech Republic's capital.
The new treaty will require the United States and Russia to reduce -- by 30 per cent below the levels in a treaty signed in 2002 -- the number of nuclear warheads they have deployed on intercontinental ballistic missiles, submarine-based ballistic missiles, and bombers.
It also provides various mechanisms to allow each side to monitor compliance with the treaty by the other country, including on-site inspections and exchanges of data about our respective nuclear arsenals.  This kind of transparency promotes strategic stability between the two largest nuclear powers in the world.
After signing the agreement, Obama said: "One year ago this week I came to Prague and gave a speech outlining America's comprehensive commitment to stopping the spread of nuclear weapons, and seeking the ultimate goal of a world without them. I said then and I will repeat now that this is a long-term goal, one that may not even be reached in my lifetime."

"But I believed then as I do now that the pursuit of that goal will move us further beyond the Cold War, strengthen the global non-proliferation regime, and make the United States, and the world, safer and more secure,'' he added.
In his  response, Russia President Medvedev said: "Just a couple of months ago, (this) looked like mission impossible. But now, this is a win-win situation. No one stands to lose from this agreement. The entire world community has won.''
Soon the treaty will go to the Senate, where it must receive support from two-thirds of the chamber before it can take effect.
Some observers have expressed concern about a withdrawal clause in the New START Treaty; they are concerned that Russia would threaten to withdraw as a means of pressuring the United States not to continue to deploy its missile defences.
However, according to Brian McKeon, deputy national security adviser to the Vice President, "There is nothing unusual about withdrawal clauses in treaties. Most treaties that the United States enters into have one -- for the simple reason that we want an escape hatch if circumstances change that affect our national interests. In fact, most treaties have a simple withdrawal clause, allowing a country to exit the particular treaty for any reason or no reason."

"The withdrawal clause in the New START Treaty has a higher bar; it gives a party the right to withdraw if it decides that 'extraordinary events' related to the treaty have jeopardized its supreme interests."
"The Russian statement does no more than give the United States fair notice that it may decide to pull out of the New START Treaty if Russia believes our missile defence system affects strategic stability," McKeon said.

Image: US President Obama and Russian President Medvedev show signed copies of the new Strategic Arms Reduction Treaty at Prague Castle
Photograph: Petr Josek/Reuters