The State Department and the White House too said that the US expects Pakistan to take decisive action against terrorists operating from its soil.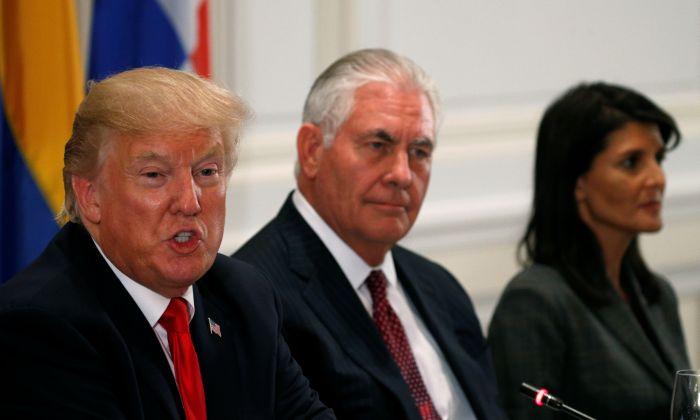 President Donald Trump is prepared to stop all funding to Pakistan until it stops harbouring terrorists, United States Ambassador to the United Nations Nikki Haley has said.
Haley's comment came a day after Trump accused Pakistan of giving nothing to the US but 'lies and deceit' and providing 'safe haven' to terrorists in return for $33 billion aid over the last 15 years.
Speaking to reporters at a news conference at the UN headquarters in New York, Haley alleged Pakistan of playing 'double-game' with the US for years.
"The president is willing to go to great lengths to stop all funding from Pakistan as they continue to harbour and support terrorism," said Haley.
"Pakistan has played a double game for years. They work with us at times, and they also harbour the terrorists that attack our troops in Afghanistan. That game is not acceptable to this administration," she said.
The US has also announced that it is withholding its $255 million military aid to Pakistan.
"The decision to block aid is connected to Pakistan's harbouring of terrorists," the top American diplomat said.
The State Department too said that the US expects Pakistan to take decisive action against militants operating from its soil.
State Department Spokesperson Heather Nauert, speaking at her daily news conference, described Pakistan as an 'important partner' and said Islamabad already knows what it needs to do.
"We expect Pakistan... that the United States expects Pakistan to take decisive action against the Haqqani Network and other militants who are operating from its soil," said Nauert.
"Pakistan is an important partner. We have a lot of issues in that region. Pakistan knows that, we all know that, and we try to work carefully together on some of those issues. I don't want to say that Pakistan can do more, but Pakistan knows what it needs to do," she said.
Speaking about the US' decision to withhold $255 million military aid to Pakistan, Nauert said the decision was taken in August and Pakistan will need to 'earn' such assistance through sincere action.
"They need to earn, essentially, the money that we have provided in the past in foreign military assistance, they need to show that they are sincere in their efforts to crack down on terrorists," she said.
Nauert said the Secretary of State Rex Tillerson and the Defence Secretary Jim Mattis who visited Pakistan in the last couple of months had conveyed the same message to Pakistani leadership.
"They shared with the Pakistani government and their counterparts our concerns. We would like Pakistan to do more through cooperation. They have a lot; it's not just us. We're not the only ones who benefit from it. But they have a lot to gain through additional cooperation on the issue of terrorism. So we expect them to take greater actions," she said.
The White House on Tuesday said Pakistan needs to step up its fight against terrorism and also defended Trump over his accusation that Islamabad deceived the US by sheltering terrorists.
"We know that Pakistan can do more to fight and stop terrorism and we want them to step up and do that. That seems pretty simple," White House Press Secretary Sarah Sanders told reporters at her daily news conference.
Sanders said Trump was taking all these steps because Pakistan had failed to fulfill its obligations in the fight against terrorism.
"The president outlined a new strategy for Afghanistan and South Asia earlier this past year, in August. And at that time, he laid out and said that Pakistan is not fulfilling its obligations," said Sanders.
"The president is simply following through on a commitment that he made, because this is a president who does what he says he's going to do," she said.
Trump is receiving praises from top American lawmakers, including some of his critics, over his move to block $255 million military aid to Pakistan.
Senator Rand Paul on Tuesday announced his agreement with Trump over the move and promised to bring in a legislation in the Congress to stop all US aid to Pakistan.
"I wholeheartedly agree with President Trump on this. The US has given $34 billion in direct aid and military reimbursements to Pakistan since 2002. That is not putting America first," he said.
The White House puts the figure at $33 billion.
The Kentucky Senator also expressed his support to Trump's tweet on Monday.
Congressman Dana Rohrabacher also applauded Trump for his 'realistic assessment' of Pakistan.
"Pakistan's regime, though our government imagines otherwise, has long acted as a malignancy in South Asia. It pretends to benign neutrality, seducing the US into believing it will cooperate with us in the war on radical Islamic terrorism if we ship its political leadership copious tax dollars," said Rohrabacher.
"Pakistan's regime persists in playing both sides between modern civilisation and violent religious fundamentalism," he said.
Rohrabacher said Pakistan's intelligence service 'serves the Taliban' instead of providing the whereabouts of terrorists' hideouts to the US government.
He cited the example of Osama bin Laden who lived in a house near Pakistan's leading military academy before the US military tracked the location and killed him.
"Indeed, Dr Afridi (Shakeel Afridi), who led us to bin Laden, now languishes in a Pakistan dungeon for his supposed effrontery," he added.
Both Rohrabacher and Paul have regularly pushed amendments to stop aid to Pakistan.
Congressman Rick Nolan also gave Trump a thumbs-up for the Pakistan move.
"Although I do not condone inflammatory tweets -- I agree that America should not be giving billions of dollars to countries like Pakistan that refuse to fight terrorism," he said.
"The truth is, the billions of dollars we have sent to Pakistan over the last 15 years has done nothing to make us safer. In fact, Pakistan has ties to the same terrorist organisations which they claim to be fighting!" he said.
Nolan has joined Congressman Ted Poe in introducing legislation that revokes Pakistan's major non-NATO ally status.
On the other side of the spectrum, Republican Congresswoman Sheila Jackson Lee, who is founder and chair of the Congressional Pakistani Caucus, called for diplomatic efforts to resolve the differences with Pakistan.
'As Chair and founder of the Congressional Pakistan Caucus, I appreciate the importance of using the tools of diplomacy and engagement to solve problems. In the past, Pakistan has fought against the terrorists,' she said in a tweet.
Pakistan, meanwhile, has expressed 'deep disappointment' over the allegations, saying the accusations strike with 'great insensitivity' at the 'trust' between the two countries.
Prime Minister Shahid Khaqan Abbasi convened a National Security Council meeting in Islamabad after Trump strongly rebuked the country.
The NSC meeting, attended by the powerful military chief and other top senior military and government officials, observed that statements by the US leadership were 'completely incomprehensible as they contradicted facts manifestly, struck with great insensitivity at the trust between two nations built over generations, and negated the decades of sacrifices made by the Pakistani nation'.
Pakistan's Ambassador to the US Aizaz Ahmad Chaudhry also attended the NSC meeting, which discussed Pakistan's response to President Trump's fresh tirade while also reviewing the country's overall foreign policy, the Dawn News reported.
Following the NSC meeting, Foreign Minister Khawaja Asif in a tweet challenged Trump's claim that the US has given Pakistan more than $33 billion dollars as aid over the last 15 years, saying verification by an audit firm would prove the US president wrong.
The meeting of the NSC, the top-level civil-military platform on security matters, in statement said that Pakistan has fought the war against terrorism primarily using its own resources and at a great cost to its economy.
'...the huge sacrifices made by Pakistan, including the loss of tens of thousands of lives of Pakistani civilians and security personnel, and the pain of their families, could not be trivialised so heartlessly by pushing all of it behind a monetary value – and that too an imagined one,' the committee observed.
It said Pakistan would continue to play role for peace in Afghanistan.
'The Committee reached a consensus that despite all unwarranted allegations, Pakistan cannot act in haste and will remain committed to playing a constructive role towards an Afghan-led and Afghan-owned peace process, not just for the sake of its own people, but also for the peace and security of the region and international community,' according to the statement.
The Committee reiterated firm support of Pakistan for the US-led international effort in Afghanistan, including continuously facilitating vital lines of communications for smooth counter terrorism operations in Afghanistan by the international coalition.
It observed that close interaction with the US leadership following the initial pronouncement of Trump's policy on South Asia had been 'useful in creating a better understanding of each other's perspectives on the best way forward to achieve durable peace and stability in Afghanistan'.
"Pakistan cannot be held responsible for the collective failure in Afghanistan and that blaming allies certainly does not serve the shared objective of achieving lasting peace in Afghanistan and the region," according the NSC.
Shortly before the meeting commenced, the military had finalised its suggestions for Pakistan's response to Trump's allegations in a Corps Commanders' Conference held at General Headquarters.
A meeting of the Parliamentary Committee on National Security has also been called on January 5 to discuss the US' allegations.
IMAGE: US President Donald Trump with Secretary of State Rex Tillerson and US Ambassador to the UN Nikki Haley in New York. Photograph: Kevin Lamarque/ Reuters