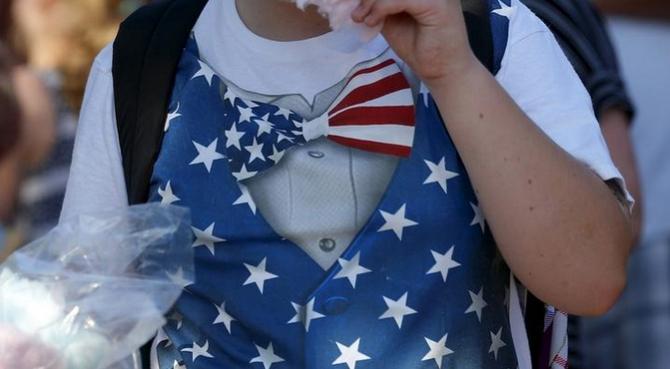 Donald Trump may be grabbing headlines in the run up to the presidential polls but an independent candidate is giving him and Hillary Clinton stiff competition and it turns out it is a 15-year-old from Iowa.
Deez Nuts, the independent candidate from Iowa, filed to run for the President of the United States with the Federal Election Commission last month.
According to a public policy polling survey released on Wednesday, Nuts had won 9 per cent of the vote as an independent in North Carolina on top of recent results of 8 per cent in Minnesota and 7 per cent in Iowa from previous polls.
The results made him what experts confirmed as the most successful independent candidate for president in two decades. Sadly, Deez Nuts does not appear to exist. But Brady Olson, 15, does. It was Olsen who filed to run for the President of the United States with the FEC on July 26 as Deez Nuts.
"When I heard about the Limberbutt McCubbins story (a cat from Kentucky seeking the Democratic nomination for president), I realised I could," Olson told The Daily Beast.
According to a FEC filing, the Deez Nuts running for president lives at 450th Avenue in Wallingford, Iowa. The problem, however, is that there is no Deez Nuts who lives in
Wallingford, Iowa, a tiny town of 197 people, according to the EmmetCounty recorder's office.
"Anybody can fill out a Form 2," FEC Deputy Press Officer Christian Hilland was quoted as saying.
"We do vetting, but it's more about did they fill out the information correctly? Did they review the fields? It doesn't speak to the authenticity of the individual who filed the claim," he said.
"Nuts" did, in fact, fill out a Form 2, a statement of candidacy, on July 26. The form had no information other than the Wallingford address and his Independent party affiliation.
Anyone can fill out your Form 2 and none of the fields are immediately checked against public records searches.
"We check for things like, 'What election cycle are you running in?' If one or more of those fields are missing, we have campaign finance analysts who review those reports. We send a letter to the listed address that asks for clarification or an amendment," Hilland said.
There are 585 registered candidates for president in 2016, including President Emperor Caesar (Democrat), Buddy The Cat (Democrat), Crawfish Crawfish (other), Bailey D Dog (independent), Buddy The Elf (write-in) and Lindsey Graham (Republican) but none of whom unlike Deez Nuts received any support whatsoever in PPP's North Carolina poll.


Image for representation only. Photograph: Jim Young/Reuters
© Copyright 2020 PTI. All rights reserved. Republication or redistribution of PTI content, including by framing or similar means, is expressly prohibited without the prior written consent.