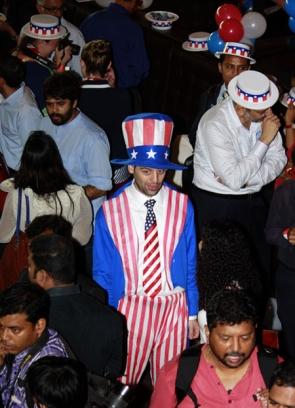 The United States has refuted media reports that claimed its embassy and consulates in India are paying lower wages to the Indian staff employed there and violating local laws in paying them.
"Our standard practice -- and I have no reason to believe that's not the case here -- is to pay folks that work for us in countries around the world in conjunction with local law with local practice," State Department Deputy Spokesperson Marie Harf told reporters.
"I am happy to look into those specific reports. It is my understanding that at a minimum, it comports with local law and local practice. But that doesn't mean that it's not beyond that. So I am happy to check and see what our practice is across the board," she said.
"I have no reason to believe that our folks have done anything wrong on that," Harf said.
The issue of salaries paid to Indian employees in the US embassy and consulates in India came to the fore after senior Indian diplomat Devyani Khobragade was arrested in New York on December 12 on charges of making false declarations in a visa application for her maid Sangeeta Richard.
Subsequently, she was strip searched and held in jail with drug addicts and criminals, which triggered a row between the US and India. Khobragade, 39, was released on a $250,000 bond.
Media reports in New Delhi said Indian employees of the US Embassy and consulates in India are being grossly underpaid in comparison to their American counterparts working in these missions, according to information made available to the Indian government.
The external affairs ministry is awaiting details of Indian staff employed by the American diplomatic missions. Some current and former employees have come forward with details of their salaries which are way below the wages being paid to American staffers in similar positions.
Image for representational purpose only
© Copyright 2022 PTI. All rights reserved. Republication or redistribution of PTI content, including by framing or similar means, is expressly prohibited without the prior written consent.