'We think Pakistan has moved decisively against terrorists that threaten Pakistan internally, but still needs to devote attention to those that represent a threat to their neighbours.'
Aziz Haniffa/Rediff.com reports from Washington, DC.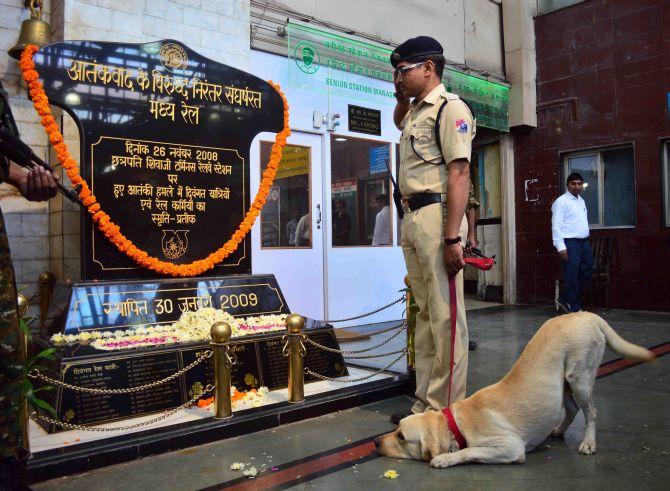 As expected, the Obama administration, despite being denounced by US lawmakers for its policy on Pakistan, provided a stout defence on why this partnership matters.
It also made a strong case of Islamabad's commitment to counter terrorism to declaring the utility of supplying that country with US F-16 fighter aircraft, arguing that it helps to protect America's national security interests.
Former US Ambassador to Pakistan Richard Olson, who recently took over as the State Department's Special Representative for Afghanistan and Pakistan, who was grilled for nearly three hours by members of the House Foreign Affairs Committee on Wednesday, December 16, noted, 'It's important to note that Pakistan has really had a shift over the course of the last year-and-a-half.'
The Nawaz Sharif government, Olson said, has a 'stated commitment articulated both by the prime minister and the army chief to go after all terrorists without distinction' even though the US believes 'there is more that can be done with regard to Lashkar-e-Tayiba and the Taliban, including particularly the Haqqani network.'
Consequently, Olson said, 'That's a very active element of our dialogue and it's safe to say that we have almost no meeting with the appropriate officials in which those topics are not raised in very, very vigorous terms.'
'It is safe to say that the attacks -- the clearing of North Waziristan -- has resulted in disruption, if not elimination of the Haqqani network's operational ability,' Olson said, 'and they have banned Lashkar-e-Tayiba, but there is still work to be done in this area.'
When he was pressed over and over again if the Pakistan military and the government provides safe havens to terrorist groups or support these groups either directly or indirectly even as it assures the US that going after these groups is a priority, Olson deftly said, 'With regard to these groups, we have had a very active dialogue with them where we have pressed them repeatedly to take action against those groups that have a presence on Pakistani soil, including the Haqqani network and the Taliban in general and also Lashkar-e-Tayiba.'
The Pakistani army's operations, Olson said, 'in North Waziristan have had a disruptive effect. They, for instance, uncovered arms caches that belonged to the Haqqanis... But we do believe that there is more that can be done and that we continue to press them very hard on that matter.'
Even when US Congressman Ted Poe, Texas Republican, ridiculed the Obama administration over the contention that the supply of US F-16 fighter aircraft was being provided to Pakistan under the rubric of 'humanitarian aid', Olson parried, saying, 'Pakistan does have a fleet of F-16s, and they have been developing a precision strike capability with those F-16s, which they have used to considerable effect in North Waziristan and in the tribal areas, generally.'
'This,' he explained, 'is within a framework of our security assistance to Pakistan, which has six objectives basically centered around counter-insurgency and counter-terrorism.'
'It's our belief that the F-16s have been used very effectively,' Olson said. 'The precision strike capability to take out terrorist targets, including safe havens that threaten our forces in Afghanistan.'
Addressing lawmakers' concerns about the safety and security of Pakistan's nuclear weapons arsenal, Olson acknowledged, 'We do share your concerns particularly about the development of Pakistan's nuclear arsenal. We are concerned most by the pace and the scope of Pakistan's missile programme, including its pursuit of nuclear systems.'
'We are concerned that a conventional conflict in Southwest Asia could escalate to include nuclear use as well as the increase security challenges that accompany growing stockpiles,' he added.
'We have had a very active dialogue at the highest levels with the Pakistanis in which we have made clear the nature of our very specific concerns,' Olson said.
'With regard to nuclear weapons,' he noted, 'first of all, I wanted to assure you that we do agree that nuclear security is a key issue. We have confidence in the capabilities of the security forces -- the Pakistani security forces -- to control and secure their nuclear weapons and we want to make sure that, that continues to be the case.'
'With regard to proliferation concerns, Pakistan has made an effort over the past few years and we have worked very closely with them to tighten export controls and to make sure that they are not in a position of proliferating nuclear materials,' Olson said, and added, obviously referring to the A Q Khan nuclear material and technology sales network.
'This has involved, of course, a clean up from the previous situation that existed a decade ago. Our assessment is that they have made considerable progress in this area.'
On lawmakers' questions that the administration is considering an US-India style civilian nuclear cooperation agreement with Pakistan, Olson quickly dismissed any such speculation, saying, 'I can assure you, despite some press reports to the contrary, that we are not negotiating a 123 Agreement -- a so-called 123 Agreement -- a civil nuclear cooperation agreement with Pakistan.'
The State Department's point man for Pakistan also assured the lawmakers about the ISI, noting, 'First of all, we do have a very robust engagement with the ISI. I met with the ISI chief regularly during my tenure in Pakistan. I made the points that I've described earlier about terrorism directly to him.'
'The ISI does have a role to play with regard to Afghan reconciliation,' Olson said, 'and we think that role that Pakistan at large played in bringing the Taliban to the table last summer was quite important and they need to do that again.'
'The Pakistanis, including the ISI, have cooperated with us in taking down Al Qaeda cells, including Adnan Shukrijumah, who was wanted for his plotting of attacks on the New York City subway and one other American citizen who was extradited from Pakistan in April,' Olsson added.
Thus, Olson argued, 'There has been quite a bit of counter-terrorism cooperation between the ISI and the Pakistan government and the United States. And we believe that's been to our national interest.'
'We appreciate the statements that Pakistan has made at the level of the prime minister and the army chief of not differentiating between good and bad terrorists. We think that Pakistan has moved decisively against terrorists that threaten Pakistan internally, but still needs to devote attention to those that represent a threat to their neighbours.'
Olson said it was not enough just to ban the LeT, 'but to take action with regard to prosecuting the perpetrators of Mumbai.'
IMAGE: A police officer pays his respects in 2014 at the 26/11 memorial at the CST station, which terrorists attacked that horrific night. Photograph: Sahil Salvi