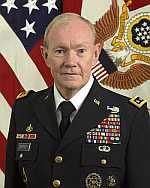 Chairman of the United States Joint Chiefs of Staff General Martin Dempsey has cancelled his trip to Islamabad, where he was to hold a private meeting with Pakistani counterpart General Ashfaq Pervez Kayani, due to continued wave of anti-US protests.
"I originally planned to go to Pakistan to meet with General Kayani, and because of some of the issues related to that film, he and I discussed postponing that visit, mostly so that I would give him the time to deal with the issues he was dealing with internally," Dempsey told the media.
As a result of which, he did not go to Islamabad and instead spent time in Afghanistan, he said in response to a question. "With the available time, I decided to extend my trip in Afghanistan," he said.
Dempsey said, he wanted his Islamabad trip to be a very private visit with General Kayani, the Pakistani army chief. "I only changed the trip right at the end," he said.
"My purpose in going to visit General Kayani was to get his insights and his intentions in that regard," Dempsey said in response to a question.