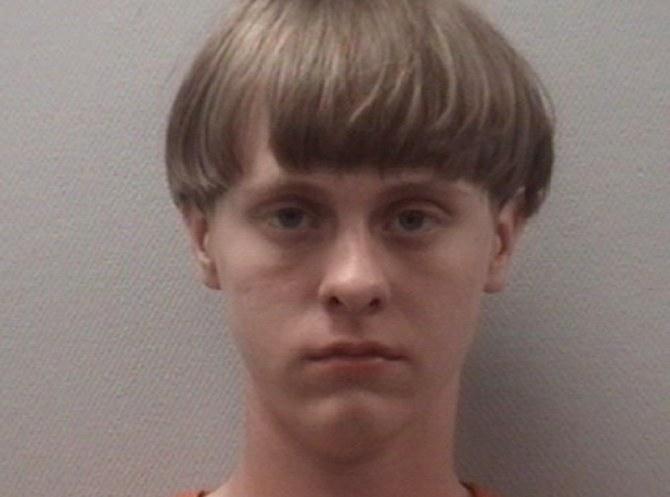 Dylann Roof is pictured in this undated booking photo provided by the Lexington County Sheriff' Department. Photograph: Reuters
A 21-year-old white gunman on Thursday sprayed bullets at worshippers inside a historic black church in the US state of South Carolina in a 'senseless' hate crime, killing the pastor-cum-state senator besides six women and two men in one of the state's worst mass shootouts.
The Charleston police identified the gunman as Dylann Roof of Lexington, South Carolina. Following a massive manhunt Roof -- a slender white man with dark blond or brown hair in a distinctive bowl-type haircut and wearing a grey sweater -- was caught from neighbouring North Carolina.
Image: Police respond to a shooting at the Emanuel AME Church in Charleston, South Carolina where a gunman opened fire on Wednesday evening at the historic African-American church. Photograph: Randall Hill/Reuters
Members at the Emanuel African Methodist Episcopal Church in downtown Charleston had gathered for a prayer meeting when gunfire erupted in the 19th century building, raising racial tensions in the country that has recently witnessed a spate of killings of unarmed black men by white police officers.
The gunman stayed at the prayer meeting for nearly an hour before shooting the victims -- six females and three males, Police Chief Greg Mullen said.
US President Barack Obama dubbed the killings as 'senseless murders'.
"I've had to make statements like this too many times. Communities like this have had to endure too many tragedies like this too many times," Obama told reporters.
Image: A man reacts while talking to police officer near the scene of shooting. Photograph: Randall Hill/Reuters
"We don't have all the facts, but we do know that once again, innocent people were killed in part because someone who had wanted to inflict harm had no trouble getting their hands on a gun.
"Now is the time for mourning and for healing, but let's be clear: at some point, we as a country will have to reckon with the fact that this type of mass violence does not happen in other advanced countries," Obama said.
The shooting victims at Charleston's EmanuelAMEChurch "were killed because they were black," Charleston police spokesman Charles Francis told CNN.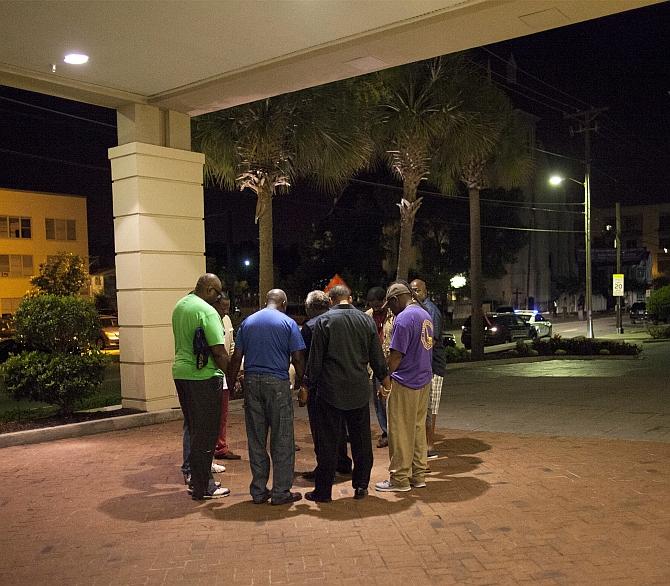 Image: A small prayer circle forms near the Emanuel AME Church. Photograph: Randall Hill/Reuters
Federal authorities have opened a hate crime probe into the shooting, the department of justice said. "The only reason someone would walk into a church and shoot people that were praying is hate," Charleston Mayor Joe Riley said.
Eight churchgoers died at the scene while a ninth succumbed to injuries at a hospital, the police said.
There were 13 people inside the church when the shooting happened -- the shooter, the nine people who were killed and three survivors, South Carolina state Senator Larry Grooms said. Two of the survivors were not harmed, he said.
The suspect was seen leaving the church in a black sedan, the police said. The church's 41-year-old pastor, state Senator Clementa Pinckney, was among the people who died inside the church. The Federal Bureau of Investigation will aid the investigation, Mullen said.
South Carolina Governor Indian-American Nikki Haley said her family was praying for the victims and families touched by the senseless tragedy.
© Copyright 2022 PTI. All rights reserved. Republication or redistribution of PTI content, including by framing or similar means, is expressly prohibited without the prior written consent.